THE 2011 I.R.S. TOP 104
HzS

G


d
"Fighting to stay free" #153...April 2011
And now, ladies and gentlemen…
…let's do it.
#104 (I.R.S. 1st-timer) MIND EXCURSION/THE TRADE WINDS (1966)


File under "2-hit wonder, whose 2 hits sound nothing like each other." Kinda like The Stampeders' pair, only the first of theirs was Top 10.
#103 (#27,2008) NO MILK TODAY/HERMAN'S HERMITS (1967)

When you consider all the lyrically simplistic hits they had, this may have been just too good for the Hermits. As B sides go, up there with the Beach Boys' "God Only Knows" (#44, 2008) and #98.
#102 (I.R.S. 1st-timer) MORE TODAY THAN YESTERDAY/SPIRAL STARECASE (1969)


Maybe this should be retired to the "may as well have been a hit" hall of fame.
#101 (I.R.S. 1st-timer) MORSE CODE OF LOVE/THE CAPRIS (1982)


right song...wrong decade Bill Cain
#100 (#77,2008) NEEDLES AND PINS/THE SEARCHERS (1964)


Sonny Bono wrote it? Don Stephan Co-wrote, Don. Had to click-and-drag the above to make certain-a, certain-a.
#99 (I.R.S. 1st-timer) I'D WAIT A MILLION YEARS/THE GRASS ROOTS (1969)
"I need you so desp'r't'ly." And that's why it wasn't Top 10. You can smell the desperation. I wouldn't hire this guy.
#98 (I.R.S. 1st-timer) I SAW HER STANDING THERE/THE BEATLES (1964)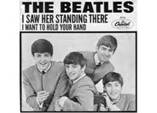 At least the other side did pretty well.
#97 (I.R.S. 1st-timer) DARLING BE HOME SOON/THE LOVIN' SPOONFUL (1967)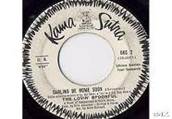 The most beautiful song they ever did, and it broke their string of Top 10s.
96 (I.R.S. 1st-timer) RHAPSODY IN THE RAIN/LOU CHRISTIE (1966)

You couldn't test the limits like this in 1966. Unless you were the Stones.
#95 (I.R.S. 1st-timer) IT'S GONNA TAKE A MIRACLE/THE ROYALETTES (1965)

Gee, if I were MGM, I'd have been concerned about my promo guys having not delivered on #s 97-95.
#94 (#55,2010) TOMORROW/STRAWBERRY ALARM CLOCK (1968)

Sure feels like there's more incense on this than on "Incense and Peppermints."
#93 (#75,2009) THE EYES OF A NEW YORK WOMAN/B.J. THOMAS (1968)

First of the Moman-James-Thomas singles, overlooked in its time. Hearing Elvis' "Suspicious Minds" from a year later makes you appreciate this even more.
#92 (#104,2010) TWELVE THIRTY/THE MAMAS & THE PAPAS (1967)

Very summer of '67, at least to these ears.
#91(#53,2010) NATHAN JONES/THE SUPREMES (1971)

Did the "Jean Supremes" ever get the credit they deserved? Heck, "Up the Ladder" really shoulda been #1.
#90 (#56,2010) IT'S A SHAME/THE SPINNERS (1970)

...that this wasn't Top 10. Next?
#89 (I.R.S. 1st-timer) WENDY/THE BEACH BOYS (1964)


I guess being the lead track on an EP made "Wendy" a single between singles. Might it have had a better shot even six months earlier, in 1964?
#88 (I.R.S. 1st-timer) TUESDAY AFTERNOON/THE MOODY BLUES (1968)

From that period in late summer-early fall 1968 when Top 40 went off the trippy/psychedelic deep end. Great as this was, still too strange musically to crack the Top 10.
#87 (#44,2010) ANY DAY NOW/CHUCK JACKSON (1962)
Another one too "beautiful" for the Top 10?
#86 (I.R.S. 1st-timer) 7 AND 7 IS/LOVE (1966)

Top 10 in 1966? Oh man, are you kidding? Wayyyyy ahead of its time. This is psycho-garage-piss-off-your-parents music. You think there were any non-prescription drugs in that studio?
#85 (I.R.S. 1st-timer) HOMBURG/PROCOL HARUM (1967)
Not only not Top 10 here, but the first and last time I ever heard that word used.
#84 (I.R.S. 1st-timer) 5-10-15-20/THE PRESIDENTS (1970)
If Buddah really wanted it Top 10, why not just resort to a little white lie – like telling everyone they were the Delfonics?

#83 (I.R.S. 1st-timer) BADGE/CREAM (1969)

Not the type of song the Top 40 fans expected from Cream, and also a bit too FM for the hit product of 1969.
#82 (I.R.S. 1st-timer) PORTRAIT OF MY LOVE/THE TOKENS (1967)
Not to mention that 1966's "I Hear Trumpets Blow" bubbled under the Top 104 this year.
#81 (I.R.S. 1st-timer) MORNING GIRL/THE NEON PHILHARMONIC (1969)
And it probably wouldn't have hit at all if not for "Tuesday Afternoon."
#80 (#37,2008;#52,2009;#18,2010) THERE IS/THE DELLS (1968)
Absurdly simple and catchy, and didn't sound anything like anything else they ever did---WLS played the heck out of this, and as a kid I assumed it was a world-wide number one. And it barely got to #10 THERE. "I am the will, I am the way"---that would look great on my business cards. R.C. Price
#79 (#26,2008) TINY DANCER/ELTON JOHN (1972)
After Madman Across the Water, Elton's next four albums generated two Top 10 hits apiece. So it figures that both singles from Madman curry favor with I.R.S.-ers every year.
#78 (#8,2008) THE RIVER IS WIDE/THE GRASS ROOTS (1969)


Surprised the original by The Forum doesn't get nearly enough mentions on returns.
#77 (#48,2009;#54,2010) SOMEDAY, SOMEWAY/MARSHALL CRENSHAW (1982)


This guy sounded like what Buddy Holly would have turned into had he lived. Evan Marcus
#76 (#53,2009) ALL MY LOVING/THE BEATLES (1964)


It really wouldn't have taken much for Capitol to have secured the Top 6 for the Fabs during that week in spring 1964.
#75 (I.R.S. 1st-timer) DOES YOUR MAMA KNOW ABOUT ME/BOBBY TAYLOR (1968)


In past years, Janis Ian's "Society's Child" has made the cut. This year, the unofficial answer record to that does.
#74 (#61,2009;#21,2010) SO VERY HARD TO GO/TOWER OF POWER (1973)

Don't look at me, I requested the crap out of this from WRKO that summer.
#73 (I.R.S. 1st-timer) YEH, YEH/GEORGIE FAME (1965)


Just a cool feel, like in a club, happy, rocking, positive tune. It's got the organ, sax, the beat, everything you need in 2:44 Pat St. John
#72 (I.R.S. 1st-timer) JUST LIKE ME/PAUL REVERE & THE RAIDERS (1966)

Wow, even five days a week of Where the Action Is! couldn't push this into the Top 10.
#71 (#69,2008) LOVE LAND/CHARLES WRIGHT (1970)
Surely a case of hitting in major markets over time vs. all at once, with L.A. way ahead of the rest of the world.
#70 (#92,2009;#43,2010) LET HER DANCE/BOBBY FULLER FOUR (1965)

One of those regional hidden treasures. Shoulda been as big as the song that followed it.
#69 (#17,2010) SOUL COAXING/RAYMOND LEFEVFRE & HIS ORCHESTRA (1968)
I guess everyone was so sick of "Love Is Blue" by April that the thought of another French bandleader in the Top 10 was just too much to bear. But if elevators actually played stuff this cool, people would ride a lot longer. R.C. Price
#68 (I.R.S. 1st-timer) I WILL ALWAYS THINK ABOUT YOU/THE NEW COLONY SIX (1968)


Sure, there's a strong midwest voting bloc, but they weren't in full force as was the case last year.
#67 (I.R.S. 1st-timer) I'M INTO SOMETHING GOOD/HERMAN'S HERMITS (1964)
This, which got very close to Top 10, made it, but the Earl-Jean McCrea original never has. Go figure.
#66 (#8,2009;#25,2010) I CAN'T LET GO/THE HOLLIES (1966)

So these guys finally proved tough enough to make the Hall of Fame without their coolest rock song ever even cracking the Top 40, much less the Top 10. Graham's high note should have its own display in Cleveland. R.C. Price
#65 (#5,2008;#41,2010) I MELT WITH YOU/MODERN ENGLISH (1983)

Still not sure how this was overlooked by Top 40 during the New Wave wave.
#64 (#99,2008;#17,2009;#71,2010) COME AND GET THESE MEMORIES/MARTHA & THE VANDELLAS (1963)


#4 in New York and only #29 nationally? Humph! I always KNEW New York had its act together, and this proves it! Mike Riccio
#63 (#51,2010) BACK WHEN MY HAIR WAS SHORT/GUNHILL ROAD (1973)
Barely skimmed the Top 40 and deserved so much more. Clever lyrics, staccato piano-accented pop hit was full of melody and fun. Chris Granozio

Just a great song, great melody, and fun. (Plus there's a great alternate version that most people don't know). Evan Marcus
#62 (#12,2010) IT COULD BE WE'RE IN LOVE/THE CRYAN SHAMES (1967)


Number one for HOW many weeks in Chicago? If you're from anywhere else, more than you'd ever guess. Maybe that was an overdose of hometown love, but Top 10 national, yeah, that would have been more than fair. R.C. Price
#61 (I.R.S. 1st-timer) IN YOUR EYES/PETER GABRIEL (1986,1989)
I recall being dejected as a teenager that this song did not do better on the airwaves, but I do believe I hear it a lot more 24 years later than I did as a kid. Ellen Russell
#60 (I.R.S. 1st-timer) QUESTIONS 67 & 68/CHICAGO (1971)

#61 and #60 are the first 2 of 7 songs on the Top 104 to be given a second chance by their (or another) label.
#59 (I.R.S. 1st-timer) EVERYBODY KNOWS MATILDA/DUKE BAXTER (1969)

Threatening to make it for the past few years, finally did. A hooker with a hook. And the sole Aussie in 2011's I.R.S.
#58 (I.R.S. 1st-timer) SOMETHING IN THE AIR/THUNDERCLAP NEWMAN (1969)


Hello, Newman.
#57 (#20,2008) TAXI/HARRY CHAPIN (1972)
Looking at the 2011 list compared to the prior two, Harry, this is one change we'd like to keep.

#56 (I.R.S. 1st-timer) LAKE SHORE DRIVE/ALIOTTA, HAYNES, JEREMIAH (1971)

Feeling nostalgic for the Midwest, I tuned into my hometown station, WJBC-Bloomington, Illinois, for their oldies show which normally consists of that same 200 Boomer tunes. But they dug deep enough to find this regional ditty which I'd not only never heard, but never heard OF (mainly because it never charted on WLS). It not only captured the sound and feel of its era, but perfectly embodied my melancholy feelings missing home (at least the home that was, four decades back). I realized the coolest thing about thinking you've heard it all is finding out you haven't. R.C. Price
#55 (#37,2010) SUGAR ON SUNDAY/THE CLIQUE (1969)
If you didn't know better late that summer, you'd have thought it was Tommy James follow-up to "Crystal Blue Persuasion."
#54 (I.R.S. 1st-timer) WALK TALL/2 OF CLUBS (1967)
I've only seen the trailer, but I bet it's still the best thing about the movie Doctor, You've Got to Be Kidding.
#53 (#51,2008;#30,2010) ABSOLUTELY RIGHT/FIVE MAN ELECTRICAL BAND (1971)


2nd of the 3 Canadian entries this year (see #s 75 & 42).
#52 (#26,2010) OPUS 17 (Don't You Worry 'Bout Me)/THE 4 SEASONS (1966)
This song is really funny. We call it the guilt song around here. Evan Marcus
#51 (I.R.S. 1st-timer) KEEP THE BALL ROLLIN'/JAY AND THE TECHNIQUES (1967)
That's what they did after "Apples, Peaches, Pumpkin Pie," just not into the Top 10.
#50 (#22,2008;#93,2009;#33,2010) I'LL FEEL A WHOLE LOT BETTER/THE BYRDS (1965)


3d of the 9 songs you've 'returned' to the Top 104 every year so far.
#49 (#97,2010) WHERE WERE YOU WHEN I NEEDED YOU/THE GRASS ROOTS (1966)

If we could only convince Classic Hits radio to replace every 3d spin of "Midnight Confessions" with it.
#48 (I.R.S. 1st-timer) WE GOTTA GET YOU A WOMAN/RUNT (1971)


At the height of the women's lib movement, Todd sings "they may be stupid but they sure are fun." Guessing that didn't help..
#47 (I.R.S. 1st-timer) WHEN THE LOVELIGHT STARTS SHINING THROUGH HIS EYES/THE SUPREMES (1963)


3d of Motown's 5 this year, from the only Hitsville act with 2. Oddly, this is the 1st I.R.S. with no Four Tops or Miracles.
#46 (#22,2010) YOU BABY/THE TURTLES (1966)

On certain days, still just about the greatest thing since rock'n roll.
#45 (I.R.S. 1st-timer) CHERRY HILL PARK/BILLY JOE ROYAL (1969)

Maybe not Top 10 but at least he moved on up from the boondocks.
#44 (#6,2009;#7,2010) AT THE TOP OF THE STAIRS/THE FORMATIONS (1968)

Another great dance tune that made Philly's top 10 in the Spring of '68 but didn't quite catch on in other parts of the country. Kate Palmer
#43 (#50,2008;#95,2009;#24,2010) EVERY DAY I HAVE TO CRY/STEVE ALAIMO (1963)


One of 10 by New York acts, off a bit from last year's 11.
#42 (I.R.S. 1st-timer) PRETTY LADY/LIGHTHOUSE (1973)

Dare you to listen to this track and not hum the melody over and over the rest of the day. This one received the airplay of a Top 30 hit and didn't make the 50. Shame. Chris Granozio
#41 (#27,2009) TEMPTATION EYES/THE GRASS ROOTS (1971)


I hear oldies stations play this as a "former #1 hit ." Don Stephan 1st act ever to place 4 songs in any year's I.R.S.
#40 (#90,2010) WONDERFUL SUMMER/ROBIN WARD (1963)


If Sean Ross ever decides to do a 'post-summer song' competition, he can start and end with this.
#39 (#83,2010) BEGGIN'/THE 4 SEASONS (1967)

5 years on, they were still making excellent singles, only in a far more competitive environment.
#38 (I.R.S. 1st-timer) IS IT TRUE/BRENDA LEE (1964)

Turning another Page in her career – that being Jimmy, on guitar here.
#37 (I.R.S. 1st-timer) SOS/ABBA (1975)


First ever for them or for Sweden. Not that there's any lack of pop gems of theirs not having reached the Top 10 here.
#36 (I.R.S. 1st-timer) LET'S WORK TOGETHER/WILBERT HARRISON (1969)

Whether in Kansas City or Boise, this song WORKED! Mike Riccio
#35 (#31,2010) MY WORLD FELL DOWN/SAGITTARIUS (1967)

More like "fell up," since it gained support in spite of slipping a few spots this year.
#34 (#15,2009) SAIL ON SAILOR/THE BEACH BOYS (1973,1975)
It's a Bruce Johnston double play!
#33 (I.R.S. 1st-timer) RIDIN' IN MY CAR/NRBQ (1977)

The closest thing to a Gary Lewis & The Playboys feel-gooder without it actually being them. Ridin' in my car, just thinkin' about my girl & wantin' to do it all over again. Pat St. John
The NYC band's most commercial offering is the perfect summer cruising record, as the title implies. Chris Granozio
#32 (I.R.S. 1st-timer) ARIEL/DEAN FRIEDMAN (1977)

Never mind Top 10, it really shoulda been on WABC. Or weren't they friends of BAI?
#31 (#77,2010) WITCHI TAI TO/EVERYTHING IS EVERYTHING (1969)

A meditation where you don't need to close your eyes. You don't know what you're singing, but you're glad to be alive when this is on, and you know it's got a vibration that's good and appreciative. All is well. Pat St. John
#30 (#59,2010) BUT IT'S ALRIGHT/J.J. JACKSON (1966,1969)

Such an underrated but much appreciated hit Joe Pergola
29 (#47,2009;#20,2010) NEW YORK'S A LONELY TOWN/THE TRADE WINDS (1965)

Jersey ties New York, claiming 10 songs as well, including both hits from these guys.
#28 (#30,2009;#19,2010) RUNAWAY/JEFFERSON STARSHIP (1978)


The only radio station I heard pound it that summer was the one in my head. Or is that too much information?
#27 (#11,2009) AIN'T NO MOUNTAIN HIGH ENOUGH/MARVIN GAYE & TAMMI TERRELL (1967)

A radio mainstay today, in fact, I'm not sure there was ever a time when it wasn't. Except, maybe, when it was a hit.
#26 (I.R.S. 1st-timer) WOLD/HARRY CHAPIN (1974)


To DJs everywhere. Don Stephan
#25 (#49,2009) WAIT TIL' MY BOBBY GETS HOME/DARLENE LOVE (1963)

LOVE Love by ANY name. I would wait FOREVER for her! Mike Riccio
#24 (#45,2010) BIG MAN IN TOWN/THE 4 SEASONS (1964)

All those great hits from the boize and this only gets to #20? BIG mistake in town on this one! Mike Riccio
#23 (I.R.S. 1st-timer) TALK TALK/THE MUSIC MACHINE (1966)

You folks really dig those gritty garage sounds out of California, don't you?
#22 (I.R.S. 1st-timer) JIMMY LOVES MARY-ANNE/LOOKING GLASS (1973)

Maybe because the ending was too happy, too resolved? Or because it doesn't smell as good? I'm not kidding. Whenever I hear their other hit, I can smell the Old Spice.
#21 (I.R.S. 1st-timer) DARLIN'/THE BEACH BOYS (1968)


Following the mess that was the "Smile" album, Brian Wilson proved he still had the magic when he produced this song, originally written by Wilson and Mike Love in 1964. Scott Lowe
#20 (#19,2008;#46,2010) STAIRWAY TO HEAVEN/LED ZEPPELIN (1972)


Goes without saying; #1 rock song of all-time and it was never released as a single... Duh! Evan Marcus This one is too obvious- but fun. Don Stephan
#19 (#18,2009;#52,2010) I GOT YOU/SPLIT ENZ (1980)


Odds are it'll be New Zealand's sole entry in the Top 104 for some time to come.
#18 (#30,2008;#14,2010) YELLOW RIVER/CHRISTIE (1970)

1st of 4 in a row from the UK, who claim 19 of the 104 this year. Not as many as Cali's 21, though.
#17 (#27,2010) YESTERDAY'S GONE/CHAD STUART AND JEREMY CLYDE (1964)


And these guys only had ONE Top 10 hit? It Really Should have been many more, but again, the glut of riches thing, I suppose. "Teenage Failure" could be included here as well, for my money, but only one witty, half-bespectacled duo to a customer. (Historical note: after finding their DNA in amber, scientists created "Flight of the Conchords.")
R.C. Price
#16 (#9,2008;#38,2009;#5,2010) SHAME, SHAME/THE MAGIC LANTERNS (1968)


Another one on the 4-year plan. Ain't no shame in their game.
#15 (#42,2009;#13,2010) YOU'VE GOT TO BE LOVED/THE MONTANAS (1968)

Another of those songs Drake drove into the ground for about 6 weeks, and you couldn't hear it anywhere else.
#14 (#31,2008;#9,2010) PIANO MAN/BILLY JOEL (1974)


It really coulda been Top 10 had it come out 2 years earlier, during the troubadour boomlet.
#13 (#62,2010) THE CHEATER/BOB KUBAN AND THE IN-MEN (1966)

A lot of really macho records missed the Top 10 in '66. I throw this in the same box as Sam & Dave and The Swingin' Medallions (anyone want to explain why the latter has never made the 104?).
#12 (#3,2008;#36,2009;#11,2010) RIVER DEEP-MOUNTAIN HIGH/IKE & TINA TURNER (1966)


Amazing version of a terrific song. Absolutely cannot understand how this wasn't #1. Evan Marcus Another entry in the IRS Hall of Fame, 1960s division. I know some folks love it, some folks hate it. If you're in the latter category, you're welcome to your opinion, just never speak to me again. God on 45. R.C. Price
#11 (#4,2009;#6,2010) IN THE STILL OF THE NITE/THE FIVE SATINS (1956,1960,1961)


I think we all know why it wasn't Top 10, but why not consider the other dozen-or-so 50s harmony classics that also shoulda?
The I.R.S. Top 10 is brought to you by

#10 (#51,2009;#65,2010) LOOK OF LOVE/LESLEY GORE (1965)


Amazing how it comes back year after year – and amazingly bigger this year – while so many other Lesley shouldas get bupkis ("That's the Way Boys Are," "Maybe I Know," "I Don't Wanna Be a Loser," "California Nights"...)
#9 (#25,2009;#35,2010) AT LAST/ETTA JAMES (1961)

I'm still ashamed that the first time I ever heard it was on that TV commercial for cat food.
#8 (#24,2009;#42,2010) THE SUN AIN'T GONNA SHINE/THE WALKER BROS. (1966)


3 for the 4 Seasons in this year's I.R.S., yet this time this Crewe-Gaudio composition (and Frankie Valli stiff) topped 'em all. Not to mention it topped both listed productions of Phil Spector, whose work this surely emulates.
#7 (#43,2009;#8,2010) WILL YOU BE STAYING AFTER SUNDAY/THE PEPPERMINT RAINBOW (1969)


Not only the best show yet for the Baltimoreans, but the city gets 2 in this year (see #95).
#6 (#6,2008;#1,2009;#3,2010) BORN TO RUN/BRUCE SPRINGSTEEN (1975)


IRS Poster Child, once again. Wanted to give some others a chance and give this one a rest, but no way can it come in any lower than #10. Wonder if in the year 2300, they'll look back at this the way we look at Beethoven's 5th? R.C. Price Stairway isn't the #1 rock song of all time, this is. My favorite classic rock song of all time. Evan Marcus
#5 (I.R.S. 1st-timer) PRETTY BALLERINA/THE LEFT BANKE (1967)


I'm amazed by the sudden consensus on this. But then, if Procol Harum, the Moodies and the Neon Philharmonic can make it, I guess this belongs right where it is.
#4 (#56,2009;#15,2010) THINGS I'D LIKE TO SAY/THE NEW COLONY SIX (1969)


Giving Obama's state 6 this year, tying Pennsylvania and edging out the Motor City.
#3 (#34,2009;#4,2010) MR. DIEINGLY SAD/THE CRITTERS (1966)


AKA Bruce Springsteen, seeing as for the first time in I.R.S. history, he can't boast Jersey's highest-ranking song.
#2 (#1,2008;#66,2009;#2,2010) CAN'T FIND THE TIME/ORPHEUS (1968,1969)


And the irony is, most Bostonians probably knew this from the clip played on the commercial for the "Bosstown Sound." I don't believe RKO ever played it (although it was #1 on WMEX), but Mel will tell me if I'm wrong.
#1 (#47,2008;#2,2009;#1,2010) NOTHING BUT A HEARTACHE/THE FLIRTATIONS (1969)


Is it the magic meshing of British production and American R&B? Or the vocals that were gutsier than what Diana and the girls were giving us in this, their swan song year? And is there any better explanation for why this wasn't Top 10 in the U.S. than that London Records couldn't break it in enough major markets at one time to orchestrate a big hit? What I do know is that with 2 straight years at the top of the I.R.S., this is more than just a flirtation.
Well, as the kids might say, voi- to the -la. At Hz So Good's section of www.60s70s.org, this list should soon join the 3 others, along with some facts 'n figures about this year's I.R.S. As always, thanks to you for filing returns and/or for helping me get the word out. Special thanks to WLNG's Bob Shannon and Connie T. Empress, Great Gold 1410 WHTG's Big Tom Lawler, The Hits of Yesteryear's Glenn Sauter, Ross On Radio's Sean Ross, Forgotten Hits' Kent Kotal, WRNJ's Norman Worth and Chuck Reiger, and my partner in countdown crime, Rewound Radio's Bob Radil (hope you enjoyed the show, if you were able to catch any of it).
Also, the 2012 edition of the I.R.S. (It Really Shoulda been a Top 10 hit) appears in April-May 2012 edition of Hz So Good.
Click.
Click