I was a HUGE Outsiders fan growing up in the mid 60s, and bought every 45 that they came out with. So, when I turned "Respectable" over and heard "Lost In My World", I thought, "man, what a buy! The B-side is almost another 'Time Won't Let Me'! I love it!" Michael Chance
Was I ever so thrilled buying Soupy Sales' "The Mouse" and flipping it over to "Pachalafaka"? Doubt it.
Close runner-up: Four Tops' "Seven Rooms of Gloom" and "I'll Turn to Stone"...oh, the power of those Woolworth's 3-for-a-$1 oldies bins! Mike Rosenbluth




We've flipped!
Double-Sided Summer Issue "A"
HzS

G


d
"Fighting to stay free" #156...August 2011
And now, ladies and gentlemen…
…let's go back to yesterday, when we barely had any money. Oh, wait – for many of us that actually WAS yesterday.
Fifteen years into the "digital music era," it's a challenge explaining to kids that before iPods and CDs, music played on formats that had two sides. The sum total of any single recording was, at the very least, two songs (even if sometimes the second was the first continued, if it was James Brown).
Because most albums were a gamble, since you didn't know how many good songs you'd wind up with, the single was the better value: you always got at least one side you liked. For a short time in the life of the 45, the "flip" or "B" side of a record could have been as good if not better than the "A," especially when an independent label was taking one shot at radio, hoping if one song didn't click the other would. Then there were the biggest pop stars whose labels aimed to monopolize chart positions by pitching both sides of a single to radio, meaning you knew both songs before you went to the store. There were those singles where adventurous stations played the flip even if it wasn't a label priority (such as "I'll Turn to Stone," as Mike Rosenbluth mentioned above). And there were the "hidden treasures," B-sides radio didn't play, where folks like Michael Chance wondered why not.
Hz asked for your 'best value' singles, where both sides more than made it worth the 59 cents, and wow, did you ever deliver: response was almost as heavy as for the I.R.S. (although not as many different singles were suggested). Here's more of those you've suggested, after which I'll throw mine out there.
Your timing is impeccable, Rich! A friend of mine recently started a Facebook page devoted to B-sides and he's got hundreds of posts already. That said, here are a few of my own favorites, listing A-side followed by B-side, in no particular order:
Mama's Place / I Can't Help It - Bing Day (Mercury, 1959) The late, great Chuck "Bing" Day meant well with the beatnik satire, Mama's Place. But that flip side?? Wow. If a better rockabilly record exists, I've not yet heard it. It shows off his guitar virtuosity to perfection. That's also his lead guitar that you hear on Johnny Rivers' Secret Agent Man. Sadly, Bing Day passed away in 2008.
Little Girl, Little Girl / Rave On - Tino and the Revlons (Dearborn, 1965) Cheech, Hoot, John and Tino released two great LPs and a lot of first rate singles. But this June 1965 masterpiece for Chet Kajeski's Dearborn label is one of first generation garage rock's absolute masterpieces. The flip was a spot on cover of the Buddy Holly classic that gives the original version a serious run for its money. Sadly, Tino was murdered in the early 1980s while on vacation.
442 Glenwood Avenue / Cold, Cold Winter - The Pixies Three (Mercury, 1963) One of the most perfect singles ever made. Kaye McCool and company also outdid themselves with the high drama of the flip side, which was actually the intended A-side when it was released.
It Ain't Me, Babe / Almost There - The Turtles (White Whale, 1965) It was a toss up between this one and their cover of Kenny Dino's Your Maw Said You Cried, which was the flip side of Let Me Be. But Almost There is just a great, hardcore garage rocker that complements the folk rock bliss of the A-side sublimely.
The Tijuana Jail / Cindy - The Kingston Trio (Capitol, 1959) Rick Nelson also did a competent version of Cindy at that time. But Dave Guard, Bob Shane and Nick Reynolds absolutely tore it up with their rendition, which ranks alongside of Dave Guard's impassioned cover of Ray Charles' Leave My Woman Alone as one of the most intense pieces that the vaunted trio ever committed to record.
Texas Rose / Barrel House Boogie - Al Dexter and his Troopers (Columbia, 1947) One of the pioneers of what eventually became country rock, Dexter coupled the engaging instrumental that is the A-side with a flip that was a precursor to rockabilly. By the time the rest of the world embraced the genre about nine years later, it was already very well established, thanks to the efforts of such visionaries as Dexter. Trust me on that one.
California Girls / Let Him Run Wild - The Beach Boys (Capitol, 1965) Two Brian Wilson masterpieces on one single. The changes in tempo, dynamics and mood on the flip side are pure genius!
Sour Suite / Life In The Bloodstream - The Guess Who (RCA Victor, 1972) Want proof that the Guess Who were one of the premier bands of the 20th century? For them to be able to turn out a humdinger of a doo wop masterpiece like Life In The Bloodstream in what was largely one of the most unproductive years in musical history speaks volumes for their enduring legacy.
Respect / Feelin' Lost - The Rationals (A-Square, 1966) No less an authority figure than the song's author, Otis Redding picked the Rationals' version of Respect as the definitive one. Indeed, there were many who bought this single upon its release in September-October 1966 who readily concurred with his assessment. Many of those same devotees of this Ann Arbor, Michigan quartet were subsequently pleasantly surprised when flipping the single over and finding this ferocious garage rock original. Respect was issued with two different B-sides. But Feelin' Lost is definitely the better of the two.
Love You So Much / Let Me Love You - The New Colony Six (Sentar, 1967) Legal concerns meant the band's label's name was changed three times in as many singles. But that didn't stop the Chicago sextet from cranking out some ambitious original material, as evidenced by this two sided gem from their second LP, Colonization.
Cheyenne / Roanoke - Bill Monroe (Decca, 1955) What happens when a group of musical virtuosos get together? Listen to the instrumental Roanoke, which features some of the most astounding musical dexterity ever committed to record. Just try to play along with it and keep up with them! Banjo on that track was courtesy of the great Jackie Phelps, later of the beloved "eefin" duet, Riddle and Phelps of Hee Haw fame.
Dandy / My Reservation's Been Confirmed - Herman's Hermits (MGM, 1966) Lead guitarist Derek Leckenby and bassist Karl Green delivered the goods in abundance on the original My Reservation's Been Confirmed, a Chuck Berry-inspired rocker that underscored their proficiency as a world class band. My Reservation's Been Confirmed remained a staple of their live set throughout much of the 1970s, at which time bassist Green assumed the lead vocalist role.
You're The First, The Last, My Everything / More Than Anything, You're My Everything - Barry White (20th Century Fox, 1974) The A-side is of course one of the most perfect records ever made. It got a new lease on life in the late 1990s, when it became an integral part of an ongoing plot line in the Ally McBeal television series. Much of its appeal had to do with that utterly stupendous backing track and its sublime string arrangement, which in essence comprises the B-side of this single. Barry White is greatly, greatly missed.
Michael McDowell
Editor/Publisher
Blitz Magazine
Since 1975 - The Rock And Roll Magazine For Thinking People
The Cyrkle: Red Rubber Ball and How Can I Leave Her. Mamas and Papas: Monday, Monday and Got A Feelin'. Herman's Hermits: Leaning on the Lamp Post and Hold On! (Great PF Sloan tune). Great 45 memories for sure.
Paul Stingo Brooklyn, NY
Music Explosion - Little Bit O'Soul/I See The Light - I've heard conflicting reports that "I See The Light" was the original A side, which is the only conceivable explanation to me for how it could have ended up as a B-side. I firmly believe that if this had been the follow-up to "Little Bit O'Soul," they would have had not just two hits, but a string of them.
Candi Staton - Young Hearts Run Free/I Know - "I Know" became the basis of the Freestylers' dance hit "Don't Stop," so I know I wasn't the only person who appreciated this.
Four Seasons - Beggin'/Dody - "Dody" is their garage punk song, sort of. There's also a little "Chain Gang" and a little Ramsey Lewis in there, too. For years, I liked it a lot better than "Beggin'," but I finally came around, just ahead of it being both reissued and remade in Europe in recent years. And the best part is that I met Dennis Diken of the Smithereens, a big Four Seasons fan, and I said, "Speaking of great Four Seasons b-sides . . ." and he said, "You mean, 'Hugging My Pillow?'" So we both had one to go home and listen to.
Abba - Waterloo/Watch Out -- The best part about "Watch Out" is playing it for people and having them try to figure out who it is.
Monkees - Words/Pleasant Valley Sunday -- "Words" is the first Monkees song I remember as a current. It's 90% of the attraction here for me, but "Pleasant Valley Sunday" has taken on a little extra cachet now that I'm actually living not far from the Pleasant Valley Way that inspired the song.
Sly & the Family Stone - I Wanna Take You Higher/Stand -- Also 90% about "Higher" for me, but finally came to appreciate "Stand" as well. Probably not going to be his only double-sided appearance on this list.
Stranglers - Something Better Change/(Get A) Grip (On Yourself) -- Two out of four songs on a pink EP that was a mindblower for me in 11th grade. I'd been interested in punk from the beginning, but this and "Baby Baby" by the Vibrators, from around the same time, were when I came to appreciate it as alternate-universe Paul Revere & the Raiders.
Sean Ross
What could be better than the Beatles - Penny Lane/Strawberry Fields Forever? The greatest 45 ever. (Unless you prefer Hey Jude/Revolution). Aron Laufer
The first few that come to mind:
Both are great Pop A sides, with a creative/some what experimental B side: Never My Love/Requiem for the Masses - The Association, Susan/Foreign Policy - The Buckinghams
Both sides entertaining: Nobody/Its For You - Three Dog Night, The Letter/Space Captian - Joe Cocker, California Man/Do Ya - The Move
So young and so much talent - but only was a hit then on the west coast: Wedding Bell Blues/Stoney End - Laura Nyro
This B side was a favorite to clear out the old folks from the Big Boys. The A side also would get them moving....
Lucky Man/Knifes Edge - Emerson Lake and Palmer
One artist that seemed to have a short run of great B-sides..Dusty Springfield. For Dusty, in 68/69 there were 4 in a row released in the US: The look of Love/I'll Try Anything, Son-Of-A Preacher Man/Just A Little Lovin', Don't Forget About Me/Breakfast In Bed, I Don't Want To Hear It Anymore/The Windmills Of Your Mind. Which one you heard (A or B) depended a lot on which part of the country you lived in. (We as listeners all assumed that if it was a hit in Fresno in 1968, it was also a hit in Detroit.)
Of course, for most of their hit making years, Creedence Clearwater & The Guess Who seemed to get the B side played on many top 30 radio stations.
Like great cover songs, 'great B sides' is a endless list to some, while many prefer not to hear anything but the original hit.
Chris
Of course, all The Beatles single releases were my faves, since I was practically guaranteed to get two hits for the price of one, but my most unexpected bonus A and B side came when I bought Napoleon XIV's "They're Coming to Take Me Away, Ha-Haa!" The hit side was wild enough...!desrever saw lebal eht nevE .edis "B" eht no edis "A" eht fo noisrev sdrawkcab a tup dlouw enoemos taht kniht reve dluow ohW !wow...edis "B" eht tuB Mike Riccio
I thought I would submit two from the great year 1973. They also happen to be the first two 45's I ever owned (and still do). The first is the scorching rocker from the Edgar Winter Group, "Undercover Man", the B-side of the instrumental #1 hit "Frankenstein." It was also co-written by "I Can Dream About You/Instant Replay's," Dan Hartman and featured guitar extraordinaire Ronnie Montrose and Rick Derringer. Conversely, the second is "Wisdom", the sax-driven flip-side instrumental from Seals & Crofts hit "Diamond Girl" (perhaps influenced by their touring days with The Champs). Gene Bolan
My double-sided memories were those unexpected surprises. Where you bought a song you heard and loved on the radio. Then after playing it endlessly, one day you decide to flip it over and give the B side a spin for the heck of it. Well, most of the time the results were fairly unremarkable. The record execs usually knew what they were doing by plugging the hit side and placing a subpar song on the B side. But every once in a while, the B side ends up gradually getting most of the attention on the turntable and the A side is all but abandoned. 40+ years later, when I pick up a Greatest Hits CD, I gravitate to the B side tracks (thankfully those B sides were included on some of those Best Of compilations). I have two glaring examples of this.
A: My Baby Loves Lovin' B: Show Me Your Hands - White Plains: A sing-a-long, handclapping, bouncy number that I was immediately attracted to from the time my neighbor lady convinced me to play the flip side when I brought the single over to her house in 1970.
A: Sugar Sugar B: Melody Hill - Archies: I'm not a huge fan of the Archies, but decades later I would discover that many fans place this B side over the A side when discussing their all-time favorite song by the Archies
bestsoularound
Beach Boys -"Barbara Ann's" flip side was the terrific "Girl Don't Tell Me." Steve Nadel
Well, my appreciation of B-sides goes back to my very first 45, bought for Christmas when I was 2! Alvin & The Chipmunks' "The Chipmunk Song". On the back was this cool little David Seville (Ross Bagdasarian) jazz-ish thing called "Almost Good". (http://www.youtube.com/watch?v=28q4wEeJksc)
That taught me to always check the flip.
Michael Hagerty
Phoenix
Let's start early, shall we? Coral Records, Buddy Holly: "Peggy Sue" b/w "Everyday". Does it get much finer? 
Ok, How about Brunswick: The Crickets: "Oh, Boy!" b/w "Not Fade Away".
 
In Philly radio, Martha & The Vandellas "Jimmy Mack" bonused you "Third Finger, Left Hand" and The Four Season's "Candy Girl" came with "Marlena".
 
Columbia tried several times to launch Chicago's "Colour My World". First with "Make Me Smile" in 1970, later with "Beginnings" in 1971. Same for "Question 67 & 68" (69 was out of the question - thanks Dan Ingram)
 
Too many to count Beatles A/B's on ALL their labels, but I still like "She Loves You" b/w "I'll Get You". Bill Cain
Absolute favorite of mine that comes to mind is Sugar Sugar/Melody Hill - The Archies (Calendar). Likely the only 45 I owned that I had to play both sides together. Another good one (although not as great) is Knock Three Times/Home - Dawn (Bell) Frank
The best: THE BEATLES- A side- We Can Work It Out, B Side- Day Tripper. Two A sides, actually!!!!!!!! Steve Nobel
Here are 7 favorite 45s A/B sides:
Run Run Run/No Return—3rd Rail, 67
Right Relations/A Better Life—Johnny Rivers, 68
Light My Fire/The Crystal Ship—Doors, 67
Lady Godiva/Morning's Calling—Peter/Gordon, 66
Cadillac/Sunshine—New Colony 6, 66
Don't Go Near The Water/Surf's Up—Beach Boys, 71
Daydream Believer/Goin' Down—Monkees, 67 Ken Pobo
Funny, I hardly ever played the flip sides! One killer B side is the flip of I'll Be There, One More Chance by the Jackson 5. Could've been a big hit, IMO.
Another great B side, of Fade Away, is Be True by Bruce.
Two Sisters, flip of Waterloo Sunset, by the Kinks, the 'sisters' are really Ray and Dave.
Most Beatles B sides are fabulous, one I DIDN'T like was You Know The Name, flip of Let It Be, and The Inner Light, flip of Lady Madonna. CCR B sides should've been A-sides in their own right. Tom Natoli
This will be unique. It's from just past the "wind up the Victoria days." But then, so am I. One of the first big hits I ever played on the radio was Tony Bennett's "Just In Time." A nicely done big, classy hit. But it was the flip side, "The Autumn Waltz" that I played at home, for my girlfriend. Not sure whether it was the song, the year, or the girlfriend that made it for me. Probably the girlfriend. Dick Summer
Summer 1965: One of the very first 45s I bought as a kid was "All I Really Want To Do" by he Byrds. It was one of my favorites from 1965. The flip, "I'll Feel A Whole Lot Better", which also got some airplay, was also one of my favorites. I was happy!
Summer 1966: "You Better Run" by The Young Rascals wasn't a very big hit single but one of my favorites from the Summer of 1966. On the flip was "Love Is A Beautiful Thing". Just as good, if not better! Serious IRS material!
Summer 1967: Ahead one Summer. "A Girl Like You" by The Young Rascals. Flip the 45 and you'll find "It's Love". More serious IRS material!
Summer 1968: "The Horse" was the "A" side, and as we all know, one of the big hits of that Summer. Flip it over and you've got "Love Is All Right" by Cliff Nobles & Co., the same instrumental, but with a vocal track. Since Cliff was the vocalist, I guess "The Horse" should have been labeled as done by just "The Co."!
Summer 1969: "Honky Tonk Women" by The Rolling Stones was not only one of the big hits of that Summer, but perhaps the #1 single of the year. Flip it and you've got the edited version of "You Can't Always Get What You Want". At the time I didn't have any way to know there was a longer version. The full length version would be included in the "Let It Bleed" LP, released later that year.
Summer 1970: In the spring of 1970, during "Woodstock's" chart run, WKBW played "Carry On" by CSN&Y. I thought it would be the perfect follow-up single. A couple months later, the much lamer "Teach Your Children", was released instead. But "Carry On" was the "B" side! Go figure. I always thought this to be a mistake on the part of Atlantic Records. Whoever was in charge of printing the labels probably put "PLUG SIDE" on the wrong side.
Summer 1971: There was the re-release pairing of "Beginnings" & "Colour My World" by Chicago. Since I already had them, I didn't have to purchase it.
Summer 1973: Same song - 2 versions. Your choice, live or studio. Although I believe the edit of the live version of "Smoke On The Water" was intended as the "A" side, since it coincided with the release of their "Made In Japan" LP, it was the edit of the studio version on the single's flipside from the previous year's LP, "Machine Head" that got most of the airplay.
If I click on the under side of this mouse pad do I get to read the flip side of this column? Bob Radil
I got my first real record player on Christmas Eve, 1958. I started buying 45-rpm records---no more of those thick yellow plastic recordings of Big Rock Candy Mountain and other kiddie tunes.
When it comes to records by Elvis Presley, Ricky Nelson, Brenda Lee and the Everly Brothers, four of my childhood favorites, there are far too many good B-sides to mention, but I have to cite Magic Moments, the #4-charting B-side of Perry Como's number-one hit, Catch A Falling Star, one of the first four singles I ever bought. I still love both sides today. Another fun B-side was I'm Not A Know It All, the flip of Frankie Lymon & the Teenagers' I Want You To Be My Girl. I also loved the harmonies of Dion & the Belmonts. I like That's My Desire, the B-side of Where Or When. The Belmonts (minus Dion) did an an excellent a cappella version of Where Or When for their Street Corner Symphony album. I remember buying Michael Jackson's Billie Jean in 1983. There was no B-side, just some criss-cross grooves and a label that said "Do not play this side." That was good advice! Steve Thompson in Boss Angeles
The first 3 45s I ever bought were two-sided hits. At age 7 in 1956 I had a dollar to spend at Katz Drugstore in St. Louis and that is where I bought my very first record:
Hound Dog/Don't Be Cruel—Elvis The quintissential two-sided hit. My Dad said he wouldn't last. By the late 60s when I was listening to groups like Iron Butterfly, my Dad was ready to accept Elvis completely.
Blue Suede Shoes/Honey Don't--Carl Perkins As much as I liked Elvis, and still do, I cringe when "Blue Suede Shoes" is identified as an Elvis song. Carl Perkins wrote it, recorded it, and as far as I am concerned owns it. What a gem "Honey Don't" is. The Beatles did a credible job on "Beatles 65", with Ringo doing a suitable vocal and George Harrison passably mimicing Perkins' licks. But again, Carl can't be topped.
R-O-C-K/The Saints Rock and Roll Bill Haley and His Comets "Rock Around The Clock" may be Haley's signature song, but "R-O-C-K" remains my favorite. "The Saints" on the flip side takes a standard and turns it in to a rocking version of "Mama Don't Allow" as Haley introduces solos by the individual Comets.
A few more two-siders come to mind:
Pineapple Princess/Luau Cha Cha Cha--Annette Funicello Like thousands of adolescent 11 and 12 year olds I had a thing for Annette. This wasn't even a hit for her, but I loved it.
I Want to Hold Your Hand/I Saw Her Standing There--The Beatles "I Want To Hold Youir Hand" was the first Beatles song I heard on the radio and the different and unique sound caught my ear immediately. By the time they came to America and appeared on the Ed Sullivan Show I was already hooked.
Macarthur Park/Didn't We--Richard Harris "Macarthur Park" gets a bad rap for its quirky lyrics but I loved it and still do. Harris's voice was different. The flip side, another Jimmy Webb composition, is a beautiful song.
Bob Jinkerson
I could list hundreds of b-sides, but here's a few off the top of my head:
The Monkees "The Girl I Knew Somewhere" (1967) (B-side of "A Little Bit Me, A Little Bit You") "The Girl I Knew Somewhere" was written by Michael Nesmith and as a b-side it charted on Billboard, peaking at #39 (The A-side peaking at #2). The song is from the band's "Headquarters" era, where they actually played on their own recordings. One of the song's highlights is the harpsichord solo, performed by Peter Tork. Until the CD era, it was only available as a b-side.
Nancy Sinatra "The City Never Sleeps At Night" (1966) (B-side of These Boots Are Made For Walkin') "The City Never Sleeps At Night" is an excellent MOR track, composed, arranged and produced by the brilliant Lee Hazelwood. Until the CD era, it was only available as a b-side.
Go-Go's – "Surfing And Spying" (1981) (B-side of "Our Lips Are Sealed") "Surfing And Spying" sounds like the title suggests, mainly a surfing instrumental with a touch of James Bond. Adding to the mystique was the shady looking character on the I.R.S. Records logo seen on the label. Until the CD era, it was only available as a b-side.
Men At Work – Anyone For Tennis (1982) (B-side of "Who Can It be Now?") "Anyone for Tennis" was probably a simple throw away instrumental track, but I always liked it. It's an up-tempo, fun and quirky New Wave cut. Until the CD era, it was only available as a b-side.
J. Geils Band – "Flamethrower" (1982) (B-side of Freeze-Frame) Even though it was the b-side "Freeze-Frame", the song "Flamethrower" managed to score some Billboard chart action of it's own, #25 Hot Soul Singles and #30 Mainstream Rock. I do remember it receiving AOR airplay in Philly. The song is also included on the "Freeze-Frame" LP. Scott Lowe
Rod Stewart: Maggie May/Reason to believe (proud to be the first DJ to play this side....have the gold record to prove it)...PS: Mercury records was REALLY pissed at me for playing this side and fought me all the way. Johnny Dark
Putting aside the fact that almost every Beatles single had both sides worthy of A side quality, I thought of a couple of singles that were a bit unique. Unique in that when the record company first released a particular single as the A side, it didn't quite catch on. Then they flipped it over or an ingenious D-J listened to the other side, thought it had potential, played it and that side became the bigger hit.
One instance was back in 1966 when Colgems released Take A Giant Step by the Monkees as their first single to match the launch of TV series. That did not do well, but the other side, Last Train To Clarksville started their great hit singles run for three years. Another instance was in 1971 when Reason To Believe by Rod Stewart came out. It did OK, but the flip side Maggie May was a monster. Later on a live version of Reason became a hit on its own.
So the folks who bought those singles received an unexpected surprise. Goes to show you sometimes the so-called record company experts don't get it right the first time. Joe Pergola
For a while my only 45s were The Beatles, up until about the time of "Ticket to Ride", so I just assumed flip-sides would always be great. And I can still remember the disappointment of boring flip-sides when new groups enter my
collection in the summer of '66.
My favorite double-sided 45s, in order:
1. The Beatles "Strawberry Fields Forever" / "Penny Lane" (...huh? what happened to the ending?)
2. The Beatles "Something" / "Come Together"
3. Creedence Clearwater Revival "Traveling Band" / "Who'll Stop the Rain" (Hard to say why CCR beat all those old Beatles singles in my favorites list).
My favorite flip-sides, which I eventually liked more than the A side:
1. The Guess Who "No Sugar Tonight", flip-side of "American Woman." (Gotta have the short version of "No Sugar"!)
2. The Guess Who "Bus Rider", flip-side of "Share the Land" Matt Wilson
Can anything top I Want to Hold Your Hand/I Saw Her Standing There? Polly Anderson
In the UK Pye released four consecutive Kinks singles which all had great B sides: Till The End Of The Day/Where Have All The Good Times Gone, Dedicated Follower Of Fashion/Sittin' On My Sofa, Sunny Afternoon/I'm Not Like Everybody Else,
Dead End Street/Big Black Smoke. All very popular on our college jukebox in the seventies when it was seven plays for one pound. Which one to leave out?
My personal favourite along with every other individually minded mixed up kid was "I'm not like everybody else," when of course I was. Felonious
The Beach Boys had a single Dance, Dance, Dance somewhere around the Fall of '64, with The Warmth of the Sun on the B side. You pick your favorite side. Hard to choose. Name withheld
I'm sure other people have mentioned the Beatles' classics such as I Want to Hold Your Hand/I Saw Her Standing There as well as Let's Spend the Night Together/Ruby Tuesday (Rolling Stones), which are admittedly the gold standard of double-sided singles, so here are some favorites from my collection:
The Four Tops: Bernadette/ I Got A Feeling (Bernadette's one of the most dramatic soul performances of all time. The B-side lightens the mood and makes you want to dance.)
Martha & the Vandellas: Jimmy Mack/Third Finger Left Hand (Yes, I AM from Philly -- why do you ask? ;-))
The Rascals: A Beautiful Morning/Rainy Day (I love this gorgeous B-side. Nobody else even seems to know it.)
The Temptations: My Baby/Don't Look Back (In this case, the B-side is better than the A.)
Simon & Garfunkel: Bridge Over Troubled Water/Keep the Customer Satisfied
Judy Collins: Both Sides Now/Who Knows Where the Time Goes
Cover Me/Jersey Girlby Springsteen -- This was the only way to get Jersey Girl on a commercial release, so we Springsteen completists bought the 45.
Runt (Todd Rundgren): A side - We Gotta Get You A Woman, B-side Baby Let's Swing / The Last Thing You Said / Don't Tie My Hands. Rochelle Rabin
The Jackson 5's "I Want You Back" is fun, but the cover of Smokey's "Who's Lovin' You" on the b-side is AMAZING!!!!
Almost all the 45s that came out of Springsteen's "Born in the USA" had great b-sides. If I had to pick one, it would be "I'm Goin' Down" backed by the lovely "Janey Don't You Lose Heart." If I had to pick two, it would be "Dancing in the Dark" backed by "Pink Cadillac." Bill Nutt
Here are a couple of B sides that make the top of my A-list:
1. The Five Du-Tones, "Divorce Court" (flip of "Shake a Tail Feather," One-Derful Records, 1963). In those days, it was standard operating procedure to put a ballad on the reverse of a raver like "Tail Feather." Instead, this is a Coasters-style vaudeville routine — not as witty as the Coasters', as Leiber and Stoller didn't write it, but good enough for a few chuckles.
2. The Flirtations, "Need Your Loving" (flip of "South Carolina," Deram, 1969). By any standard, let alone as the follow-up to "Nothing But a Heartache," "South Carolina" was pretty lame. At the very least, it seemed much too English to be a contender. But "Need Your Loving" starts where "Heartache" ended — the band thunders along as the girls engage in some very effective call-and-response, and the whole thing threatens to explode by the time it fades. Reviewing the Flirtations' album in Rolling Stone, Greil Marcus singled out this track as the highlight. WT Koltek
Hall & Oates - Some Things Are Better Left Unsaid, and the B side is All American Girl. Kristin LaBar
GARY LEWIS AND the PLAYBOYS - Count Me In / Little Miss Go-Go
Ever see the scopitone for "Little Miss Go-Go?" It's a real treat! Here it is: http://www.youtube.com/watch?v=6GwNgfwYYxg. The uploader of this video states that the blonder blonde is Teri Garr. He may be correct. Nick Stabile
Ok, now I'll go. Here's what's in my hand.
The Boys Are Back in Town b/w Jailbreak by Thin Lizzy. There are days when I still feel the flip was better.
Back on the Chain Gang b/w My City Was Gone by The Pretenders. I have refused to let Rush Limbaugh ruin the B-side. Nothing could ever ruin the A-side, one of my five favorite songs ever.
Wouldn't It Be Nice b/w God Only Knows by The Beach Boys. Whether intended to be Brian's two-song suite about 'mature love' or not, that's how it always sounds to me. The A-side kicks off with an intro that I'm convinced is, all by itself, about growing up (as in, wake up and get off the merry-go-round). B-side may be the best the guys ever recorded.
Do You Want to Know a Secret b/w Thank You Girl by The Beatles. The crystallization of Beatlemania in the U.S. A pair of just plain great tunes. Always loved the B-side more too.
Laughing b/w Undun by The Guess Who. While the B wound up being the fall follow-up to the A, both always felt like summer songs to me.
If you didn't see your picks here this time, chances are you will next: Double Sided Summer Issue "B" will feature the Top 40 A/B sides, based on everything that came in.
"Who's paying for all these drinks?"
Earlier this year, MTV attempted to bring Skins - a British hit series about teens awash in booze, drugs and sex – to America, with a home-grown version of all of the above. Even after Skins got the publicity MTV surely wanted – advertiser pullouts and parents group complaints – it flopped. Why? Because in America, teens want to be entertained by "real" young people, not be shown the consequences of their actions by, well, actors. Jersey Shore is a hit because it's about kids who are drinking, hooking up and, supposedly being the same as they are off-camera (if that is there is any "off-camera").
This helps explain the current state of pop music, where this summer's biggest hits could be the soundtrack for Jersey Shore: Top 40 depicts a world where everyone drinks and has sex, and there are never any consequences. Here's a sampling of what 11-year-olds are hearing on the radio every day, most in "hot rotation":
One more shot for us, another round/Please fill up my cup, don't mess around
We just wanna see you shake it now/Now you wanna be, you're naked now (LMFAO "Party Rock Anthem")
Excuse me/But I might drink a little bit more than I should tonight

And I might take you home with me if I could tonight

And I think you should let me cause I look good tonight (Pitbull "Give Me Everything")
Last Friday night/Yeah we danced on tabletops
And we took too many shots/Think we kissed but I forgot
Last Friday night/We went streaking in the park
Skinny dipping in the dark/Then had a ménage a trois (Katy Perry "Last Friday Night")
He pop bottles and got the right kind of build
He cold, he dope, he might sell coke
He just gotta give me that look/when he give me that look
Then the panties comin' off, off, unh (Nicki Minaj "Super Bass")
I I I wanna go o o all the way ay ay/Takin' out my freak tonight
I I I wanna show ow ow all the dirt irt irt/I got running through my mind (Britney Spears "I Wanna Go")
Cheers to the fricken' weekend/I drink to that, yeah yeah
Oh, let the Jameson sink in/I drink to that, yeah yeah
Don't let the bastards get ya down/Turn it around with another round
There's a party at the bar/Everybody putcha glasses up/And I drink to that (Rihanna "Cheers")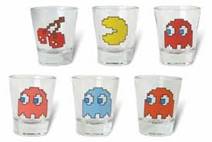 This is so wrong.
It strikes me as odd that Skins, that clearly showed how messed up a teen's life can get, got slammed while it's perfectly fine that these songs are the soundtracks of young lives. Does everyone think TV is that much more influential than music? If you've seen kids – maybe yours – sing along to the radio, YouTube or their iPods, you know how not in the background these songs really are.
While the music videos for the above don't enhance the lyrical content, those lyrics are of course still heard nonetheless. The "Last Friday Night" clip includes neither skinny dipping nor a ménage a trois – probably a good thing, since Katy plays an eighth-grader – yet the message remains the same.
Yet no one's upset and no one's apologizing, because everybody knows that nudity and four-letter words are worse than any of the lyrics shown above. Ironically, the most censored song on Top 40 right now – Bad Meets Evil's "Lighters" – is actually about triumphing over negativity.
Now, a lot of people will say that these songs follow in the footsteps of their dance-pop predecessors, that they're not meant to be taken seriously, that kids know the difference between songs and real life. I don't know about you, but when I was 11-12 years old, top 40 hits were my life: I lived vicariously through those songs, most of which weren't trying to be funny or clever. Back then, even Dean Martin never drank a little bit more than he should on any of his hits. I listened to a station that cut "I'm a midnight toker" out of Steve Miller's "The Joker"; can't imagine that would happen anywhere today.
Am I suggesting that pop radio is an accomplice to teen drinking and underage sex? Gee, I really don't know. But is it a coincidence that another of the summer's big teen hits is the retrofitted country tune "If I Die Young"? Make of that what you will.
It's been suggested – and it's probably crossed your mind, too – that alcohol-infused pop song lyrics are a byproduct of recessionary times. That we drink to forget, and these days there is quite a bit to want to forget. Not that one should even attempt to apply logic to lyrics written to fit music, but I must ask, in my best Jerry Seinfeld voice: if money's tight and teens have less of it than ever…who's paying for all the drinks in these songs?
That, friends, is this summer's "What got thrown off the Tallahatchie Bridge?" Let me know when you've figured it out.
And now, as promised,
THE LAST OF...THE I.r.s.
301. SUGAR BABY LOVE / THE RUBETTES (1974)
302. SUNSHINE GIRL / THE PARADE (1967)
303. MY MISTAKE WAS TO LOVE YOU / DIANA ROSS & MARVIN GAYE (1974)
304. STEP OUT OF YOUR MIND / AMERICAN BREED (1967)
305. ITCHYKOO PARK / THE SMALL FACES (1967)
306. FOR THE LOVE OF HIM / BOBBI MARTIN (1970)
307. WITHOUT THE ONE YOU LOVE / FOUR TOPS (1964)
308. TIME HAS COME TODAY / THE CHAMBERS BROTHERS (1968)
309. KING OF ROCK / RUN-D.M.C. (1985)
310. WHO DO YOU THINK YOU ARE / BO DONALDSON & THE HEYWOODS (1974)
311. DO I LOVE YOU / THE RONETTES (1964)
312. THAT SAME OLD FEELING / PICKETTYWITCH (1970)
313. YOU NEVER CAN TELL / CHUCK BERRY (1964)
314. POOR MAN'S SON / THE REFLECTIONS (1965)
315. TURN DOWN DAY / THE CYRKLE (1966)
316. ON THE WINGS OF A NIGHTINGALE / THE EVERLY BROTHERS (1984)
317. GOODBYE / MARY HOPKIN (1969)
318. SOMEDAY WE'RE GONNA LOVE AGAIN / THE SEARCHERS (1964)
319. LET'S PRETEND / RASPBERRIES (1973)
320. WOODSTOCK / MATTHEW'S SOUTHERN COMFORT (1971)
321. THE BREAKS / KURTIS BLOW (1980)
322. REMEMBER ME / DIANA ROSS (1970)
323. WHEN I'M DEAD AND GONE / McGUINNESS FLINT (1971)
324. PAY TO THE PIPER / CHAIRMEN OF THE BOARD (1970)
325. FRIENDS / ELTON JOHN (1971)
326. WATERLOO SUNSET / THE KINKS (1967)
327. THIS IS IT / KENNY LOGGINS (1980)
328. WHAT DO ALL THE PEOPLE KNOW / THE MONROES (1982)
329. PRECIOUS, PRECIOUS / JACKIE MOORE (1970)
330. EARLY IN THE MORNING / VANITY FARE (1969)
331. JACK AND JILL / TOMMY ROE (1969)
332. YOU BETTER RUN / THE YOUNG RASCALS (1966)
333. THERE IS A MOUNTAIN / DONOVAN (1967)
334. MUDDY RIVER / JOHNNY RIVERS (1969)
335. CHEWY CHEWY / OHIO EXPRESS (1968)
336. I WANT TO STAY HERE / STEVE AND EYDIE (1963)
337. DON'T LET THE RAIN FALL DOWN ON ME / THE CRITTERS (1967)
338. LOVING YOU IS SWEETER THAN EVER/ FOUR TOPS (1966)
339. IT'S OK / THE BEACH BOYS (1976)
340. YOU'RE GONNA MISS ME / 13TH FLOOR ELEVATORS (1966)
341. YOU LOST THE SWEETEST BOY / MARY WELLS (1963)
342. I ONLY WANT TO BE WITH YOU / DUSTY SPRINGFIELD (1964)
343. I LOVE YOU 1,000 TIMES / THE PLATTERS (1966)
344. IT'S GOOD NEWS WEEK / HEDGEHOPPERS ANONYMOUS (1965)
345. DOUBLE SHOT (OF MY BABY'S LOVE) / SWINGIN' MEDALLIONS (1966)
346. NEVER GONNA FALL IN LOVE AGAIN / ERIC CARMEN (1976)
347. SWINGIN' ON A STAR / BIG DEE IRWIN (1963)
348. SOME VELVET MORNING / NANCY SINATRA & LEE HAZLEWOOD (1968)
349. EVERYDAY WITH YOU GIRL / CLASSICS IV (1969)
350. ABERGAVENNY / SHANNON (1969)
351. WHISPERS (GETTIN' LOUDER) / JACKIE WILSON (1966)
352. WHO DO YOU LOVE / THE WOOLIES (1967)
353. LAY A LITTLE LOVIN' ON ME / ROBIN McNAMARA (1970)
354. DING DONG THE WITCH IS DEAD / THE FIFTH ESTATE (1967)
355. DON'T YOU WRITE HER OFF / McGUINN, CLARK & HILLMAN (1979)
356. LET'S CALL IT A DAY GIRL / RAZOR'S EDGE (1966)
357. GIVE ME ONE MORE CHANCE / WILMER & THE DUKES (1968)
358. GOODY GOODY GUMDROPS / 1910 FRUITGUM CO. (1968)
359. SHE'S THE ONE / THE CHARTBUSTERS (1964)
360. I CAN MAKE IT WITH YOU / POZO-SECO SINGERS (1966)
361. LET'S GET LOST ON A COUNTRY ROAD / THE KIT KATS (1966)
362. GIMME GIMME GOOD LOVIN' / CRAZY ELEPHANT (1969)
363. OH ME OH MY (I'M A FOOL FOR YOU) / LULU (1970)
364. CALIFORNIA NIGHTS / LESLEY GORE (1967)
365. OOGUM BOOGUM SONG / BRENTON WOOD (1967)
366. MASTER JACK / FOUR JACKS AND A JILL (1968)
For the Top 104, visit I.R.S. Top 104
The HzLine
More Tales from the Countdown Front
Thanks for this edition! It was great to read others' stories.
I can't believe I forgot to mention that my parents used to let me slip out of church every week during communion to flip a tape over so I wouldn't miss any of the countdown … ah, well.
Josh Hosler
It was the WABC Countdown of 1971. My friend Robert Waldman and I were so obsessed with everything about WABC, the countdowns were no exception. We would predict the list in advanced and figure out whose list came closest, etc.
As most of you know, WABC did not truly "count down" the Top 100 of the year, they played them out of order as if they were playing their regular survey songs in rotation all week with the Top 14 and Top 4 getting the extra plays. Trying to get the entire list required lots of patience, the week off from school and a cassette recorder for when you had to go to the bathroom or even a chore your parent gave you.
So Robert and I made a bet every year who would be able to have the complete list first. The competition was fierce, but after getting beaten in 1970, I was determined to win the '71 contest.
They started their countdown Saturday afternoon of Christmas Day. I was glued to the radio all day. It is now after 2 AM on Sunday morning. I know that soon they were going off the air for Public Service shows and I am torn between getting the last number, the #61 song and getting some sleep.
Jim Perry (who to this day I'm not sure is the same Jim Perry who was the game show host) is on the air, and I decide to cheat. I used the hot line to the studio x7328 that Chuck Leonard once gave to me and I called Jim Perry. I explain the situation and he is all to glad to tell me that Abraham, Martin and John/What the World Needs Now by Tom Clay is that elusive song.
As I am ready to go to bed, Jim comes back on the air and says "I was just on the phone with a nice young man named Steve Nadel. He told me he has been listening to WABC since early Saturday afternoon to track the entire Top 100 list. I gave him the last song he was looking for and told him to go to bed. Folks, there is an easier way"…segues into the promo telling you how to get you free list by mailing to the station.
As a survey junkie, it is a moment I will never forget.
Steve Nadel
Really enjoyed the recollections of countdowns by those who were a bit more dedicated to the craft than I. My only thought regarding countdowns was how the heck Casey managed to post, flawlessly, every single tune he talked up. Of course, first trip to a real production studio answered that question.
Chuck Igo
Great stories from lots of countdown "freaks."
Joe Pergola
First of all, fantastic to read all the tales from similarly obsessive countdown freaks across the country---I always thought, as I'm sure many others did, that I was the only one in the world so taken with this wonderfully linear and Asperger's-friendly entertainment format, and could never understand why my friends and family didn't find it as compelling and all-consuming as I did.
I started collecting the weekly WLS surveys in grade school and remember excitedly sharing with my best pal my revelation that once a song held the same position two weeks in a row, it would almost certainly drop the following week. The blank stare with which he greeted this momentous realization confirmed to me that I was indeed on a solitary path.
But radio countdowns in my market were a rarity….if WLS actually still counted down their weekly Top 40 in 1970, I sure never found it. But the year-end Big 89…now THAT was excitement. 1969 was my first, and for the next four years, I was glued to my radio every New Year's Eve for what soon became the most eagerly anticipated event in my young life…way beyond birthdays and even the last day of school.
The most mind-bending of these, though, came in 1972---the year my world was rocked when WLS STOPPED sending printed copies of their weekly survey to the J.C. Penney record counter (and anywhere else, as far as I can gather.) I continued to listen loyally to the Big 89 (unaware that my man Larry Lujack had moved across town in July and was back on the air just a little ways up the dial) and tried to maintain my contemporary pop knowledge, but without a roadmap, it was a lot harder…and less satisfying. I even discontinued my OWN personal weekly chart during this dark time….it was all just too nebulous.
So the 1972 countdown was more a mystery to me than any of the others. Usually I could pretty much tell where a song was going to chart---#1's would land somewhere in The Top 30, #2's anywhere between #10 and #45, etc. But in '72, I wasn't sure of anything---except for the fact that "American Pie" would rank #1.
It had to---before the surveys stopped coming in March, it had already held the #1 spot on the WLS 30 for the whole month of January plus one week in February---six weeks total. And since it was MY undisputed year-end #1 as well, I looked forward to the stroke of midnight and a personal celebration of an interesting and enlightening year in pop.
As we entered the final hour, I duly noted all of that year's usual suspects: Johnny Nash, "Horse With No Name", Neil Diamond, "Brandy", and then the top four…."Hurting Each Other" by the Carpenters (way high, in my estimation, more like a #20 to #25 choice), Nilsson's "Without You," and Gilbert O'Sullivan at number two….and then, as I popped the cork on my Martenelli's apple cider, the number one song of the year kicked in and I started to groove to….Roberta Flack.
Roberta Flack? Roberta Flipping Flack????? With a snoozer of a tune so boring it didn't even register that I hadn't heard it anywhere else in the countdown?
Yes, "The First Time Ever I Saw Your---Blechhhh---Face" was the Big 89's number one tune for 1972. And to add egregious insult to incredible injury, "American Pie" was not even LISTED on their year-end survey.
I was truly incredulous, and spent the rest of my Christmas break in an open-mouthed gape of amazement. And to this day, I still can't buy any of the explanations that are bandied about the Internet by retro-chart loonies like myself.
However, I guess the silver lining to all of this was another discovery I made during that break---of a NEW music survey that started appearing on my Penney's record counter, from a Chicago station I'd never heard of---WCFL, at 1000 AM. And their air staff included a lot of familiar names---Kris Stevens, Art Roberts, and one Mister Lujack---that made me very curious. It wasn't nearly as easy to pull in---I guess even though WCFL had listeners in Lisbon and Hong Kong, it didn't carry to downstate Illinois all that well---and I even had to mark the position on my clock radio's circular dial with a Flair pen to note the optimal tuning range.
But from that point forward, the Big 89 was decidedly number two in my heart, and WCFL---during the remainder of my tenure in the Land of Lincoln, through August 1974---was not only my fave station, but, in retrospect, and in my humble opinion, the best top forty station EVER.
Got lots of other countdown memories---discovering American Top 40 on a Missouri road trip in 1973, rediscovering it a year later in Phoenix on the execrable KRIZ, trying hard to keep my eyes open at 6 a.m. on Sunday mornings to hear it, being dragged off to church at 8:30, just as we reached the Top Five, and spending my last New Year' Eve of the 70's in my garage, trying to pull in WLS on the radio in my '67 Mustang, straining through the static to hear what sounded like Cheap Trick at number four—number FOUR? Yup, pretty cool---but 1972 reigns supreme as my most memorable countdown.
R.C. Price
Scotty Brink's RKO
Talking WRKO and the album-rock leaning days when Scotty Brink ran the show, I remember several other interesting tunes that never appeared anywhere else I know of (although if John Garabedian had still been at WMEX, he might have spun them)...John Kongos' "Tokoloshe Man" and "Jubilee Cloud", and NRBQ's "Get A Grip". I also recall a Bobby Bloom track called "We're All Goin' Home"...a song title that proved prophetic when Bloom was murdered in L.A. not long after. Another local band that got on the air at WRKO was Swallow, a Chicago/B.S.&T. style big band-rock group. I don't remember if this pre-dated Brink's arrival, but I do remember "Yes I'll Say It"...a song I still use as bumper music on talk radio programming today. And Mike Kennedy's "Louisiana" was all over WRKO in 1972 (Kennedy was lead singer of Los Bravos). Great ears at WRKO during those years. Every one of those songs could have been a major national hit had the right industry politicians been backing them.
Cary Pall
Cincinnati
And the hits…
STOP TEASING ME, HOWIE ROSE! Now and then on the drive home, often just for background noise when I don't feel like music (yes, this happens), I'll turn on the Mets play-by-play on WFAN. I never realized until last week how not-closely I listen. My ears have perked up whenever Rose, while calling the plays, seems to ask "Wanna know the count?" To which I reply mentally, of course I want to know the count, Howie – that's your job, isn't it? And then it hits me when the pitcher throws another one outside, that what Howie was actually saying was "1-and-0, the count." Oh.
In a related story, maybe you caught this a few Sundays ago. That kid was me, too!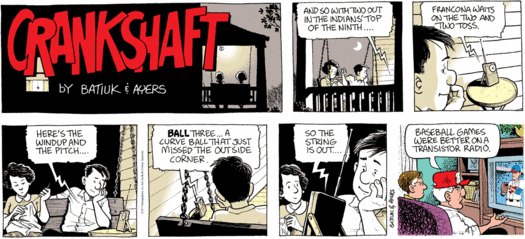 WHAT'S IN YER WALLET? While on the topic of comics, when did 'comics in real time' become more rule than exception? At one time it seemed Gasoline Alley (which began when Walt Wallet was a car-talking teen) was the only strip where characters aged (and still do – Walt's alive and well at 111). For Better or For Worse was first to do that in a family setting until the original strips ended a couple of years ago. Now that's true for both of Tom Batiuk's comics (Funky Winkerbean and Crankshaft, above) and other family-based strips like Jump Start and Baby Blues.
But the 'real time' strip that probably gets the most attention and readership of all is Doonesbury. While it remains politically-charged, Garry Trudeau seems to have given it a double life as of late, with more series about Mike's daughter Alex, Jeff Redfern (son of Rick) and Zonker's nephew Zipper. My guess is all three will become even more important as the strip continues (or until Trudeau decides to call it a day).
THE GUEST… If you're nutty enough to want to read more of my ramblings, you can check the "Guest Writer" columns at radio-info.com. Actually, some of those columns appeared first in Hz. One that didn't, a response to a recent New York Times piece that pain Scott Lowe was nice enough to pass on, is here.
…AND THE REST And if you're nutty enough to want to hear how I fake a "Midwestern accent," tune in here (http://wrnjradio.com/) for The Rest Of The Week with Rich Appel Saturdays 6am-1pm ET. It's fun. Really, it is. Would I lie to you? By the way, thanks to Mike Rabon – yes, of The Five Americans – for guesting on the July 30th Rest. Mike's written a great book about those days, High Strung, that you can order at http://www.thefiveamericans.com. This calls for a…
Dit-dit-dit-dit-dit, Dit-dit-dit-dit-dit, Click.
Also, the 2012 edition of the I.R.S. (It Really Shoulda been a Top 10 hit) appears in April-May 2012 edition of Hz So Good.
Click