WHICH

NFL

IS TOUGHEST?
(and which has the better hair?)
Also: What radio could learn from Hawaii Five-O

HOME OF THE 4TH ANNUAL I.R.S.!
Fighting to stay free #151...February 2011
And now, ladies and gentlemen
guess what? We don't need your stinkin' Super Bowl! Not when we got the roughest, toughest league o' ladies (well, maybe "ladies" isn't always the right word) making radio- (not entirely) friendly music today, in a divisional grudge match all their own.
You'd have to go back to Hz #79 (November 2003), where the groundwork was laid -
hold on, checking to see if Beavis and Butthead are reading...nope...coast clear for this. That's when we retold the recent history of the female solo recording artist, from crooners to (then) divas. Unavoidable during the then-most-recent two decades of that history: the "Madonna factor." Look at the key players in this season's NFL (that's National Female League, ok, sorry) and tell me the MF still isn't in the playbook (Susan Boyle perhaps excepted).
Without further ado (although there is further Adu), how they finished this season (based on sales, new release activity and momentum). Warning: may give "fantasy football" an entirely new meaning. Definitely should give that other NFL ideas for future halftime shows.

EAST

1ST LADY rah rah GAGA 14 million Gaga fans can't be wrong (just try telling them otherwise). As the shot above suggests, on the Pop field, the Lady will just carve you up.

2ND NICKI backfield in motion MINAJ Rookie of the year? You a rookie to her! The ultimate team player all season - just ask Kanye, Ludacris, Lil Wayne, will.i.am, Trey Songz, Sean Kingston, Gyptian...

3RD SUSAN bring to BOYLE As they used to say in my neighborhood, one tough broad. Could teach us Yanks a thing or two about footie. Not to mention singing.

4TH ALICIA 88 KEYS No one, and I mean no one, can get in the way of what she's bringing. Except for the three ladies above, that is. Spent much of the season on the sidelines cheerleading for the hometown.

5TH SADE the sweetest ADU Queen of the excessive time-out. Doesn't get on the field a lot, but when she does, this soldier takes no prisoners. Reserve now for 2020!
NORTH

1ST TAYLOR SWIFt kick No longer on the bleachers. Put together 3 winning seasons, no sophomore or junior slump. Tends to pull a Lucy on players with better looks than Charlie Brown.


2ND P!NK off play Wrong in all the right ways, but so what?

3RD MILEY illegal motion CYRUS Former division champ/teen phenom now only wants to play with the big boys. Apparently can be tamed. (By the way, she's North due not to that Montana connection, but to her childhood years in Toronto.)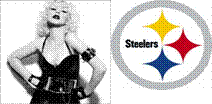 4TH CHRISTINA hook and ladder AGUILERA A season of one fumble after another. Not herself. Could have been the choice of uniform.

5TH mean AVRIL LAVIGNE Dormant until late in the season, when adopted what the hell attitude that's worked well in the past.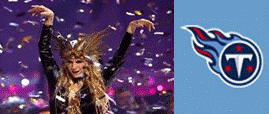 SOUTH
1ST KE$HA the total offense '09 draft pick tearing it apart-part-part in spectacular rookie season, rushing for 5 hits just under the Tik Tok play clock. This in spite of continued (and unabashed) claims of alcohol use, and constantly being confused for one of the fans.
2ND

RIHANNA that's m'name

Earned Wildcard status in only division with two 13+-million players. Strong return after victim of unnecessary roughness off-field.


3RD HAYLEY red zone WILLIAMS Pulled out of group lineup mid-season, took the ball and ran like an airplane on astroturf. Part of a triple-threat offense, and we could really use a wishbone right now.

4TH BRITNEY blitzney SPEARS Though she sat out most of the season, we won't hold it against her. Or will we? (Yes, we're aware that if Britney spears, it's a 15-yard penalty.)

5TH KERI Heisman HILSON Gave hot receiver new meaning. Not just another pretty face.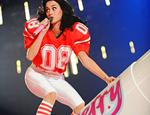 1ST KATY boom boom PERRY Unforgettable, undeniable, and, on top. Went all the way not once but three times. Tackled only once, however, by one of those Brit footie-loving guys.
2ND CARRIE the ball UNDERWOOD In this game there's no penalty for piling on, especially when it's #1s. Then again, this player's never been one to stay idle.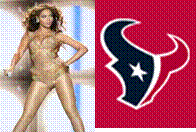 3RD BEYONCE field goals KNOWLES In an off year, all the former champ had to do was a little passing game with Gaga to finish 3rd. Maybe next season she'll put another ring on it.

4TH MIRANDA lateral LAMBERT 4th-place finish aside, walked out with more trophies than anyone else. So did she rock the house, or did the house rock her?

5TH first down FERGIE While not quarterbacking much these days, great at passing the Peas.
If you're interested in how the post-season went:
Ke$ha drew a first-round bye, Taylor Swift beat make that over - Rihanna, Katy Perry over Lady Gaga.
Taylor got a second-round bye, Ke$ha over Katy.
Super Bowl Ke$ha over Taylor.
Makes you wonder who would have prevailed in a Doris Day-Patti Page showdown (1953), a Madonna-Whitney head-to-head (1986), or a Spice Girls-vs.-LeAnn Rimes match-up (1997).
The HzLine
More STATIONary 100
I can't believe no Famous 56 WFIL? A Top 40 giant!
P.S. I love the writings. I'm usually chomping at the bit by the time your next issue finally appears. Keep up the great work.
Robert Heiney
Re Scott Orenstein's reply to my comments on DC101- I take issue with his disdain-filled comment about "replacing Stern with the Greaseman... 'nuff said - I [simply] meant that DC101 filled the void [left by Stern] with Grease. It's not often that stations replace one talent with anyone the caliber of Doug Tract.
John A. Quayle

And the hits
MAYBE WE SHOULD CALL IT THE U.R.S. ...as in, You Really Should file your return. We're still on the way-early side of filing, so there's plenty of time before countdown day on the Ides of April. But here's everything you need to know:
What I.R.S. does stand for in Hz-ese is It Really Shoulda been a Top 10 hit. Based on the U.S.'s longest and most trusted weekly singles chart. Not that it matters: you don't need to do any research for this. Just send us your list, we'll do the checking.
List your songs that really shoulda been Top 10 hits in rank order, your favorite at the top including both title AND artist please for each. List however many you want, keeping it in the 2-figure zone, please. Just because we're compiling a Top 104 doesn't mean you have to as well.
Like that other I.R.S., just because you filed last year or the past 2-3 years doesn't mean you shouldn't do so again this year, even if that means sending us the exact same list. But if you want to shake it up and file different songs, that's fine too.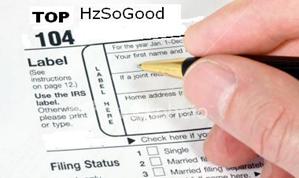 Now the fun part (if the above wasn't fun enough): there'll be prizes awarded to random voters this year. And wait until you hear what those are. Actually, you'll have to wait, but I promise it'll be worth it.
BUT CAN YOU TEACH A NEW DOG OLD TRICKS? A few Saturdays ago, when I played the Trashmen's Surfin' Bird on TROTW, my son told me about the Family Guy episode where our hero's copy of the 45 goes missing. I watched it; it's funny. In fact, Surfin' Bird is, as they say, comedy gold. It must be, because not only couldn't Family Guy's target audience have any recollection of the 1963 hit, neither could Dad and alleged 45 owner Peter Griffin.
Same deal with Hawaii Five-O, the original version of which aired for the entire decade of the 1970s. The new version, one of the few new hit series in broadcast prime time, couldn't depend solely on older viewers for its good ratings or its People's Choice award. Truth be told, I like the new H5-O better: the characters are more likeable, the plots fresher.
Five-O's success proves there's still such a thing as timelessness, and that sometimes the media's obsession with demo-psycho-everything-ographics is overrated. Christmas music on radio proves it, too, but that, alas, comes but once a year. So are there winning formulas for radio, mined from its past and Hawaii Five-O's present - that can work year-round?
You bet there are. To wit:
1. Interesting folks any time of day. If I listened to radio 24/7, I could assemble a schedule centered on riveting personalities using every station/service/app I have access to (and I don't have Sirius XM). But if the radio I can hear on my radio lives up to its entertainment potential, I shouldn't have to. Why aren't there more great and local midday people who happen to play music? And what about us poor folk who can't sleep? Who do we get to listen to? Dare I say, there are interesting people all day on the box with the pictures.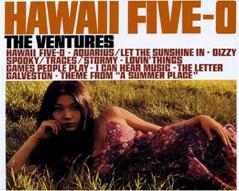 Grace Park, the very early years?

2. Surpassing expectations. Just guessing here, most viewers didn't expect the new Hawaii Five-O's secret weapons to be a wise-cracking Danno and a bikini-clad Kona (especially since the original Kona was male and, well, not exactly bikini-ready). I sure wasn't expecting a mold-breaking night guy like Chunky on NYC Top 40 Now 92.3. I may not like everything he says between the tunes, but darned if I don't keep coming back to hear it.
3. Surprises! Diddy as detective on Five-O? Cameos by actors from the old version on the new? Yes and yes. Radio should strive to do this every day, if not with live guests, then with music. WCBS-FM has done a nice job of it with the hourly Hall of Fame theme-of-the-day feature, and often the song isn't even a WTF? Look at it this way: if Pandora exists to throw me a loop every time, how can any station competing with it not up the ante?
4. Loving live. When I watch Hawaii Five-O or most any TV, I'm saying to myself, this had better be good: after all, it's scripted and recorded, it was created to be perfect. Active listeners expect the same from radio, even if it's live (most of the time, anyway). Let's embrace rather than avoid that. Less live breaks = more wuss (thank you Mike Damone)!
5. Plot twists. Part and parcel of not only Five-O but every procedural crime drama. How can you have plot twists on radio, you ask? How about non-music element interaction? The Drake jocks were the best of the best at this, with the way they hit the post on commercials, with intros as pithy as those for the hits. (On a 1970 CKLW aircheck, Chuck Williams talks up a Dairy Queen spot with eat, drink, but don't get married.) WABC's Dan Ingram must have never gone to the little boys' room during his show, seeing as he'd quip between and inside commercials, and talk up (and out of) newscasts.
There you are. If you're on air anywhere and see value in any/all the above, you know what to do. Hook 'em, Danno.
MORE LIVES THAN A WHOLE HERD OF CATS He's back! As you're probably already aware, former um, everything, Joey Reynolds, has landed not on radio but TV, with an apple-flavored late night talker on NBC's NY Nonstop channel, All Night With Joey Reynolds. Not exactly all night, midnight to 2, but that's still two hours more a night of Joey than we've had for almost a year since WOR said bye-a bye-a.
I've always said there should be a movie made about Joey because his life, where he's been, what he's done, how he's adapted to changes in the media, is even more interesting than Joey on the radio, or on TV for that matter. This said, All Night is the first example I can come up with of a program that's on TV only because there isn't any place for it on the radio anymore. If you agree that watchers, even that late, are awake enough to set the bar higher than they would if they were in bed with the radio on, then Sir Joey has some stiffer talk competition on the box not so much because Kimmel, Fallon, Ferguson and Lopez are better or wittier hosts, but because they can attract higher-profile guests.
Back in the days of sleeping single in a single bed (or in the more recent days when alone in the big one, maybe a few times a year), Joey and guys like him were can't-sleep (or, more often, don't-wanna-sleep) must-listens. Sure, I could get up and take the few steps and turn the TV on in the dark, but it's not the same. Just the same, it's great knowing he's there.
IDOL CHATTER, PART 10 Early impressions. Jennifer=Paula. Steven < Simon, but he's fun to watch because you never know what he'll say. Randy, Ryan and Idol wannabes, same as ever. The real test will come once the real competition begins, seeing whether this year's talent can make us forget how important the judges' (read, Cowell's) part of the show used to be.
FROM WEIRD TO AWESOME In the past 70 years, there have been, as I count with one hand, 5 great contemporary music parodists/spoofers: Spike Jones, Stan Freberg, Allan Sherman, Weird Al Yankovic, and Key of Awesome, the current group of singers/actors whose YouTube videos skewer performers more often than just their songs. While both Freberg and Sherman took a 'parents hating music of youth' point of view such as the former's Elvis telling producers too much echo on Heartbreak Hotel, or the latter's Pop Hates the Beatles - KOA pulls no punches, knocking down the idols of its own generation, whether Justin Bieber, Ke$ha or Glee. Take a look/listen and tell me if they don't deserve that 5th slot.

JUST SEVEN HOURS (CAN STRAIGHTEN OUT MY LIFE) I'm no therapist, but I might be able to cure what ails you too with sugar-coated music, just plain nuts and a prize on The Rest of the Week with Rich Appel, Saturdays 6am-1pm ET at http://www.wrnjradio.com/streaming.php. Tune in and be a critic, I'll love you for it. You can even call in at 908.852.1234 while I'm on and trying to save the medium in my own warped fashion. So you could do the following this Saturday...
Click.
----
Click Also, the 2012 edition of the I.R.S. (It Really Shoulda been a Top 10 hit) appears in April-May 2012 edition of Hz So Good.