IT'S I.R.S. TIME AGAIN!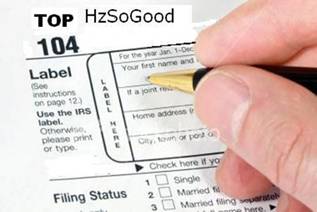 If you hate taxes, but you love songs that are so great that they "really shoulda been" Top 10 hits, then you're in the right place.
'Round here, "I.R.S." stands for "It Really Shoulda" been a Top 10 hit. For the 5th tax season, we're compiling the list of the "I.R.S. Top 104" (because a 'Top 1040' would be a bit much) songs that really shoulda been Top 10. It's the annual chance for regional hits - and songs that just couldn't get a break back when - to shine.
And we'd love your help putting it together.
Filing with this I.R.S. is EZ-er than with those other guys, mainly because there's no form. Here's all you do:
· Send a list of songs that make you say "THAT really shoulda been a top 10 hit!" to IRS104@verizon.net.
· Any song that didn't reach the Top 10 in the U.S. is fair game, whether or not it was ever on any chart, whether or not it was ever released as a single.
· It doesn't matter if you don't know (or care) whether songs were Top 10 or not. We'll take care of all corrections. 


· Send as few songs as you'd like, or as many, up to 100. We know some of you can come up with more, but please limit your list to 100 songs.
· Unless you specify otherwise, lists are assumed to be in rank order, with your favorite listed first.
· Make sure to list title AND artist for every song.
· Since this is a ranking of songs, do not list two sides of a single as one entry.
· Likewise, do not list two or more versions of the same song as one entry.
· The absolute deadline for all "I.R.S. forms" is 11:59:59pm Eastern time, April 1st – April Fool's Day - 2012.
Random I.R.S. filers will receive "refunds" in the form of either merchandise from RadioLogoLand or 4-disc sets of the I.R.S. Top 104!
Over the weekend before this year's tax deadline (April 13-15), we'll count down the 5th annual I.R.S. Top 104 on a radio or computer near you (and in Hz So Good) and draw the winners – details coming soon. Meantime, you can check out the first four I.R.S. Top 104s here.
So, let the 2012 I.R.S. begin. Our preparers are standing by.

H&Z ROCK
                        a division of
HzS

G


d
"Fighting to stay free"                                                 #161...February 2012
And now, ladies and gentlemen…
RADIO'S TOP 10 FORMAT HYBRIDS, SPINOFFS OR OFFSHOOTS
  Once, long ago, contemporary music on the radio was a simple thing: you either played all the hits or you didn't. You were on our side or theirs. Then some folks figured out you could blur the lines, and suddenly there were hybrids, offshoots or, in the case of Rock on FM, new formats altogether.
  Now, with the exception of top 40, country and what's now called urban, every successful commercial music radio format is a spinoff, offshoot or hybrid. So here are, in this listener's humble opinion, and in no particular order, the big ten. Some no longer exist or have morphed into modern-day equivalents, others were only right for their time and/or musical trend. I'm not going to pretend to understand why some of these worked and some didn't, and why some worked in some markets and not others. If I've got some history incorrect, let me know (and I know you will).
TOP 40 MEETS EASY LISTENING.  In the late 1960s, thanks in great part to writers like Jimmy Webb and Burt Bacharach, pop that didn't rock so hard hit a new level of sophistication. This was best typified by "MacArthur Park," a seven-minute single that appealed to adults as well as kids. Drake-Chenault was one programmer/syndicator that figured out a way to package a format that junked the old Easy Listening model (1940s-50s, jazz/swing, re-recordings of melodic pop hits geared to older listeners) in favor of one based firmly in the 60s, which played the hits as they were, plus combed current albums for like material. That was the "Hitparade" format that aired and did well in many markets until the mid-70s.

  Throughout the 70s, this hybrid evolved to embrace soft rock artists who had gotten exposure from the first incarnation of album/progressive rock, such as on Greater Media's "Magic" format. By the 80s, it had become mostly a 'best of Top 40's softer hits of the past three decades' affair, laying the groundwork for Lite, Bright and the like.
TOP 40 MEETS AC.  A hybrid of a hybrid. Although the term "Adult Contemporary" defined formats with different executions during the 1980s, "Hot AC" was always top 40 with more adult-friendly songs slotted where pure teen fare would be. Granted, which songs are replaced and which do the replacing has changed from era to era, but the basic idea remains the same. Note: please don't get me started with "Modern AC," which would be a hybrid of a hybrid of a hybrid.
TOP 40 MEETS ALBUM ROCK.  For the most part, the earliest versions of top 40 on FM were more experimental, pulling teens from their AM competitors with tracks from the top albums, while maintaining the jingles, pace and post-hitting. Where I was, Boston's WVBF kicked it up more than a notch with former jocks from legendary AM top 40 WMEX and jingles like "WVBF is a four letter word." Others, like the pre-oldies WCBS-FM New York, took a different approach, with more relaxed jocks and a wider range of gold.
  As top 40 migrated from AM to FM, the album material tended to get phased out. But then in the late 1980s, the idea re-emerged as 'hair bands' took up enough real estate on top 40 to warrant (no pun intended) their own home. Perhaps the most notable "Rock 40" format was Scott Shannon's "Pirate Radio" in Los Angeles. While that didn't last long, there are still a few rock-leaning hit formats out there.

ALBUM ROCK MEETS TOP 40.  Until the mid-70s, FM rock radio played by nobody's rules. We heard the terms 'free form' and 'progressive' a lot. Stations like WBCN in Boston played "Love Will Keep Us Together" because they could, to make the point that they really could play anything. But as a regular stable of best-selling album artists emerged, many with at least three hits at top 40, they became the basis for formats like Burkhart-Abrams' "Superstars," which rotated album cuts and applied formatics to a music format that never really had any.
  Originally this allowed for a wider variety of acceptable album rock, encompassing softer rock and female acts, but later versions skewed more male and focused on bands. Which is pretty much where this format is at today, only with an even smaller playlist and far less musical wiggle room.

OLDIES.  Yes, a spinoff of top 40, because that was the only place you could hear them (remember "the million dollar weekend"?). Originally the format focused on the mid-50s through mid-60s, and that music stuck together so well and was so good that the many automated-only versions of the format really weren't so bad. I could be a little biased because this was the first radio format I experienced as "background" while miniature golfing or getting ice cream (although, to be fair, no radio has ever really been "background" for me). If you want to call it "Classic Hits" now, knock yourself out.

ROCK MEETS OLDIES.  But you know it as classic rock, the nucleus of which still seems to be the best of "Superstars."
R&B OLDIES.  The first time I heard it, I remember saying to my wife, how did this not happen sooner? And I recall it being the first format we both enjoyed from song one. While that particular station, New York's Jammin' 105, lasted little more than three years, it was clear that this was a winning formula. It's hard to argue with Motown, Aretha, Gamble-Huff and everything that led to, and out of, disco.

OLDIES MEETS CLASSIC ROCK MEETS (HOT) AC.  The mama of all hybrids, known on a first-name basis: as Jack or Bob or whomever. Perhaps best described as 70s-90s with the occasional outlier (or current) and 'we're not like them' stance. Never gets too edgy, but throws in a surprise (like, say, the current) now and then.

DANCE.  I can't bring myself to call this "Top 40 meets R&B" even though that's true to some extent. I'll admit that even at disco's peak I didn't see how anyone would want to dance 24/7. But when Philadelphia's WZZD flipped in spring 1979, I was hooked, and enjoyed their take on all-dance even before I'd heard what WKTU had already been doing in New York. The format (and KTU) rose from the ashes in the 90s, and is still around, even if often hard to distinguish from top 40 given the latter's dance-leaning tendencies lately.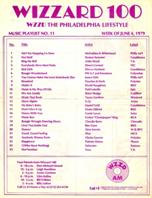 EASY LISTENING/BEAUTIFUL MUSIC MEETS R&B.  Which is (or in many cases was) basically "smooth jazz." During its run, it was the hip background station, what doctor's offices played without being cliché (I heard it in plenty of them).
  Now, I know I've left out many other format spinoffs/offshoots/hybrids, maybe defined these ten in a way that you wouldn't. So by all means, chime in and set me straight.

And the hits…
NAME - THAT - CAR!  That's what I call my new game, and here's how to play. Go back and watch the first 30 seconds of every commercial that ran during the Super Bowl and identify the advertisers. (You can do that here, with the help of someone who will keep you honest: http://adage.com/article/special-report-super-bowl/instant-replay-super-bowl-spots/232530/?utm_source=daily_email&utm_medium=newsletter&utm_campaign=adage.) While that may not be so hard to do for most of the spots, I'm betting you'll get close to a failing grade when it comes to just the auto makers. And I'll argue while that's been the case for years, the other night it was particularly noticeable.
  The competition to create memorable commercials during the one televised event viewed by nearly everyone (or so it seems) has hit the point where lots of folks sit through the game just to see the spots. This year, ten car makes - Honda, Acura, Audi, Chrysler, Chevy, Hyundai, Kia, Toyota, Lexus and VW - were responsible for fourteen commercials during the game. Without looking, I can recall a half-dozen – Seinfeld, Matthew Broderick, the dog, the mini-fridge, Armageddon and…ok, five. I can tell you that Seinfeld's was for Acura because they showed it and named it in the first ten seconds, meaning I get a 20% and an F-. Let's see how you do.
BECAUSE EVERYONE KNOWS THAT EVERYONE IN RADIO LOOKS LIKE THIS GUY    While at Party City, I noticed the wig below labeled "Disc Jockey." It's also on Amazon. Which must mean that we've gotten to the point where if you say 'disc jockey' to anyone of a certain age, the first name that comes into his/her head is Howard Stern, even if they haven't listened to him since he jumped to Sirius XM. Note to self on October 31: check if sales of these have gone up, after the next season of America's Got Talent, where Howard will join the mighty four judges.

GO FIG-YA    If you've been to the market (or Amazon) lately, perhaps you've noticed that what were once Nabisco Fig Newtons are now Nabisco Newtons, Fig. Who's their product manager, Yoda?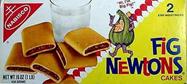 PLUGMANIA     Read more in every Thursday's Billboard Top 40 Update (subscribe free at http://www.billboard.biz/newsletters). Check out the madness twice every weekend on "The Rest Of The Week With Rich Appel" on http://www.WRNJradio.com. Friend me on Facebook (http://www.facebook.com/richappel7), follow the program at http://twitter.com/#!/@Restoftheweek. Now all that's left to do is -
  Click.
----
Click Also, the 2012 edition of the I.R.S. (It Really Shoulda been a Top 10 hit) appears in April-May 2012 edition of Hz So Good.
Click