One radio. One tape recorder.
One desire to preserve the best music of 1970. And two radio stations simultaneously broadcasting their year-end countdowns. What a dilemma! Which path should I follow?
That was the situation this 15-year-old encountered when Chicago stations WLS and WCFL aired, respectively, their Top 89 and Top 40 for 1970. It was Christmas afternoon when the Big 89 hit parade started at 2 p.m. while 'CFL's review began at 4 p.m. Fortunately, I had both of their record surveys in advance which meant that I could estimate when songs would be played. That, of course, gave me a few minutes warning to prepare one of many cassette tapes I used. Because WLS was playing more than twice the number of records, and since they had a two hour head start, I took advantage of the opportunity and recorded many of their lower ranking songs.
Scotty Brink got it all started when he rolled out the Big 89. And my recorder's red button was first pushed with #87, Chicago's "Make Me Smile." Ferrante & Teicher's "Midnight Cowboy" and Rare Earth's "(I Know) I'm Losing You" were also must-haves. Many songs later, it was Gary Gears who kicked off 'CFL's countdown with the first of four Jackson Five records, "I Want You Back."
And the countdowns rolled on! WLS. Then WCFL. Then back to WLS. And back to WCFL. Over and over. The more my AM radio dial was exploited, the dirtier the heads of my cassette recorder became.
Finally, to wrap up the competition, 'CFL's Larry O'Brien declared B.J. Thomas and "Raindrops Keep Falling..." as 1970's #1 song while Chuck Buell revealed Simon & Garfunkel's "Bridge Over Troubled Water" as the top WLS record.
And what was my personal favorite for 1970? I have to call it a tie between WCFL and WLS. Between the two stations, the tape in the cassettes I used could not be measured by how many feet but by how many miles.
Pete Battistini
Tales from the Countdown Front
An opposing view of PlaySay * More I.R.S.
HzS

G


d
"Fighting to stay free" #155...July 2011
And now, ladies and gentlemen… it's
Tales from the Countdown Front

40. Before I knew what an intervention was – in fact, perhaps before anyone had heard of one – I was on the receiving end. My family sat me down and tried to explain how "there is more to life than writing down songs from the radio." The year was 1965; I was 8. Eight years later, my father confronted me with a handful of copied surveys he found in my wastebasket and told me I was "wasting my time with this foolishness."
So, in recent years, when I met folks like Mike Riccio, Joe Persek, Tom Natoli and Don Tandler – who love radio countdowns as much as I, but whose families supported their interests instead of treating them like crystal meth addicts – I felt vindicated. To be able to freely discuss chart movement by market, like it was the World Series, was truly cathartic.
Reading about all of your countdown experiences made me feel good too. If I ever wanted to write an autobiography, I could devote an entire chapter to every time I missed school, passed on a social event or left work early to listen to a countdown. Not to mention every time, as a child, I cried when forcibly taken from the almighty radio (and the day that radio, purposely perched on a shelf I couldn't reach by my parents, came crashing down).
This issue of Hz So Good is for anyone who ever stayed up all night New Year's Eve (or sat around all New Year's Day) to get every number of the Top 100, who raced home from school to catch the new survey (or surveys, if there was more than one Top 40 station in town, or signal in reach). Or who listened under extenuating circumstances (like I did at least two memorable times). Or who was on the other end of that countdown, working magic in the studio, creating and enhancing the drama.
If you're ready, let the countdown of the countdown stories begin!

15. I must harken back to my teen years
from 1965 to 1969, while listening to the great Dandy Dan Daniels on WMCA in New York. Dandy Dan would count down the Top 25 Good Guy hits from Monday to Saturday. This was quite an achievement 'cause it was the same songs every day in the same order, but Dan had the knack and innovative quality to make it sound fresh. Of course, on Wednesday it would be new survey day, and so with great anticipation I would follow the Good Guy survey and compare it to my bold predictions for the week. They also had a great promotion by giving away a hit kit of the Top 25 records every day to a lucky listener whose postcard was randomly drawn. The big tall Texan made New York his adopted town and we loved him for it. Joe Pergola
14. For many years, KRTH [L.A.] has done
an oldies countdown on Memorial Day weekend and Fourth of July weekend. Originally a Top 300, the countdowns are now a Top 500. Every year it's pretty much the same boring burned-out songs that make the list because the countdown never includes a song that isn't on KRTH's everyday playlist. Three years ago the station ran a promo that began with imaging voice Charlie Van Dyke announcing, "Here is #201" on this year's Top 500. Then an excerpt of a song was played. Then came "Here is #101", followed by another song excerpt. Finally Charlie said, "Here is number one." After a brief pause, he said, "Ah-ah-ah, you don't think we're going to play that now, do you? Be listening at 3 pm Friday for the Top 500." Yes indeedy, the promo began running two days before the countdown was to start. Apparently the list was already compiled, even though listeners still had two more days to go online and vote for their favorite songs. I haven't listened to a KRTH countdown since. Steve in Boss Angeles
13. I'm all about countdowns.
There's something magical about them, after all – like a game of sports and a high school dance all wrapped up into one. Where have all the countdowns gone?
I heard my first countdown on June 9, 1985, when Casey Kasem told me the #1 song was "Everybody Wants to Rule the World" by Tears for Fears. I had listened thinking this might just be a great place to tape all my favorite songs off the radio in one fell swoop. But as the countdown went on, I began to hear the statistics – "up four notches" – "sliding down twelve spots" – and I realized that if I tuned in again next week, I could compare and keep track. Maybe I could even make predictions!
So tracking American Top 40 became my hobby. It brought me great joy to keep my little notebook of charts, and around school, I became known as the keeper of the musical knowledge. To be honest, I'm sure I was pretty obnoxious about it – "Oh, you like Michael Jackson? Did you know that he's had four #1 hits off the same album, and if 'Dirty Diana' goes to #1, he'll set a new record?" I even have some old tape recordings of myself at age 13, playing DJ, counting down my favorite songs.
At the end of each year, I would do my own math to try to predict the biggest hit of the year. Then I'd settle down in front of the radio on New Year's Eve to listen and compare. Often I did pretty well, though I kept wishing I had all the same numbers Billboard did, so I would know in advance whether INXS would edge out George Michael for the top hit of 1988. (My numbers told me they would; they didn't.)
On into college, I continued by hobby, and I even got to take it to the airwaves. On WOCR-FM in Olivet, Michigan, I hosted a weekly countdown show called "The Real Top 40" – because by this time, American Top 40 had abandoned the Hot 100 in favor of a countdown with less rap and metal. I was offended by this decision, and I was determined to bring the REAL hits to my fellow college students. I don't think most people cared, but I was having a ball. It was during this time that my notebook of countdowns became a database full of numbers and statistics.
Throughout the '90s, though, I noticed something was wrong: more and more of the hits weren't appearing on the countdown. From "Mr. Jones" to "Don't Speak" to "Men in Black," huge hits were being ignored completely on the technicality that you couldn't go into a store and buy a physical single of them. I thought, "Who cares? I thought the idea was to measure popularity of hits—and these songs are extremely popular!" I began to track airplay-only hits as well and count them in my year-end lists. I stopped caring what Billboard's list said, because it didn't seem to reflect reality anymore. Also, with BDS and Soundscan now providing true accuracy, recurrent songs were wearing out their welcome on the chart. I really didn't need to hear LeAnn Rimes' "How Do I Live" for 69 weeks in a row!
Things improved in 1998 when Billboard began to allow the airplay hits onto the chart, and I also appreciated the move in favor of a multi-format chart. But since then, I've never felt that Billboard has the balance quite right. They have been slow to react to new changes—like the advent of the digital single—and every week, I feel like I could create a chart that, while not perfectly accurate, would at least be more fun to listen to as a countdown.
So in 2009, I created "American Top 100." Every week I pull together several Billboard charts and crunch the numbers into something that I believe shows what's really most popular. It's a multi-format chart, but it's weighted toward mainstream top 40 music. Digital sales are counted but given less weight; as a result, songs from "Glee" is not allowed to flood every chart. Country songs squeak into the top 40 region only if they truly deserve it. And best of all, songs that fail to bullet begin to get penalized. For every week they fail to bullet, they get more and more points taken away from them until they gracefully fall off the chart.
I put this countdown on the air for over a year on www.live365.com as "American Top 50," though the show is taking a hiatus while I go back to school for the next few years. I know it's not as accurate as the Hot 100 in reality. But in my mind, there's nothing more fun to listen to than a good old-fashioned countdown. So now, having collected all the past hits in iTunes, I can do that: call up a playlist from the past on my laptop, and start listening. What will I listen to today? Maybe I'll snag this week twenty years ago, when BDS and Soundscan hadn't quite kicked in, and the #1 song was "Rush Rush" by Paula Abdul. There were eight debuts that week, so that'll make it pretty exciting. Josh Hosler Seattle, WA
12. I remember New Year's Day 1961.
WKBW in Buffalo spent at least 6 daytime hours counting down the top 60 of 1960, and 10 year old me wrote them all down. I know "Summer Place" was #1, and I kept the typed out version my mom did for me for several years – wish I still had it! The year before on New Year's Eve, they did the top ten of each 50s year. I still remember Goodnight, Irene was #1 of '50, and You, You, You was #3 in '53 - probably retained in the brain 'cause we had the 78. I was too young to stay up to hear after '56 or so! Tom Taber Almeron Records
11. My thought about having down countdown shows
on the radio, is that they are very difficult to do. The DJ is constrained by the order in which the songs appear on the charts. Which means (in the 70s at AFN Frankfurt, and SEN Vicenza) I had to figure out how to play "First Time Ever I Saw Your Face" back to back with, say, "Misty Mountain Hop". Such radical variations between the sounds of two songs which are adjacent to each other on the charts poses a real artistic challenge to the DJ. Casey always knew how to do that well...and Iearned from him. But I always hated countdown shows. Jeff McKnight
10. Your email gave me a "countdown dream" last night.
Some station was playing the top 1000 or so songs of all time, and I was listening along and writing them down. It was a really great list, full of obscure pop hits and seminal blues tracks and classical music, etc., but I kept getting distracted by other things, the radio kept turning itself off, and I kept missing songs. Which wouldn't have been a problem, because I already had the printed list, except that the songs on the printed list were all out of order and…
The fact is that I have long been a fan of radio countdowns, and have over the years accumulated a large collection of "all-time" type lists. The most interesting countdown story I have, however, concerns the opening hours of the first countdown I ever listened to, and the countdown that got me interested in pop charts to begin with. Over Labor Day weekend in 1982, WNBC decided to present the "Top 660" of all-time. (This was supposedly a listener-voted countdown, although I would many years later discover that the list was based primarily on a Top 500 WNBC did in 1976, with 160 more recent songs added, a few songs at the top shuffled around, and a few of the more obscure records replaced.) The countdown began on Friday at 4 pm, which coincided with the start of the shift of a brand-new DJ named Howard Stern.
Needless to say, the Top 660 received absolutely no respect whatsoever. Stern did play the songs, but grudgingly, and not without the expected acidic commentary. "Who voted for the Pointer Sisters!?!!" Stern demanded to know. He threatened to reveal the #1 song. (It turned out to be "Hey Jude" – big surprise.) "Girl Watcher" by the O'Kaysions got ripped off the air after the first 30 seconds: to this day I cannot take that song seriously. Countdown songs had to share airtime with Beatles parodies such as "Roz is in the Sky with Traffic" and "Get Fat (and You Won't Go To Jail)" - the latter about some guy in the news named JoJo whom some judge had deemed to be too porky for the pokey. The final indignity came towards the end of his shift when Stern was forced to play "YMCA" by the Village People as part of the countdown. You can imagine the results. Tom Smith
9. About those "extenuating circumstances"...
January 1964 – The Sunday earlier, "I Want to Hold Your Hand" was #30 on WBZ Boston's top 30. I was 6˝ and writing down every number, as I'd been doing every Sunday since June 1963. #13 and still no Beatles. Then it happened: my parents announced they were taking my baby sister and I to Auntie and Uncle's while they ran an errand. Somehow, I managed to hear the rest of the top 30, between the car ride and running into their house and locating the radio in the sewing room. Yes, "I Want to Hold Your Hand" went from 30 to 1.


August 1971 – During the summer both WRKO and WMEX did a countdown Thursday afternoon, I was working as a golf caddy. Carried two rounds/36 holes a day, except of course for Thursday, when I'd collect my $1.50 and take off. I kept my transistor in my pocket on Thursdays just in case I didn't make it home by 2, when John H. kicked off the Wimmex countdown. One Thursday things didn't work as planned: the caddymaster told me I was needed for another round, and you didn't say no to the big guy. Again, somehow I managed to get all 60 numbers while watching balls, even with one embarrassing mishap: during a player's shot, I turned what I thought was the station switcher but turned out to be the volume, and for a second, a Young's Furniture commercial blasted out of my shorts.
Memorable station mishap - I was at JB105 in Providence December 1980. MD asked the cute intern to compile the top 50 of year, she left out "Sailing." By the time I caught it, it was too late, they'd already printed. And that's why #50 was "Giving It Up for Your Love" (which the jocks liked).
8. "Cool Jerk" should have been around #40

but was left off the [WABC] top 100 of 1966 (at the printer? by a secretary? on purpose? No one knows). Then there was "Boogie Down" in the 1974 top 100, which was listed as #6 when it should have been #24. Just a mistake by Sonya Jones. Speaking of, where is she now? Apparently fallen off Earth. The "Survey Guys" would love to track her down so we can ask some questions. Don Tandler
7. When I was a wee lad of 9, I received
my first tape recorder for Christmas and was so excited to be able to record all the great tunes I was hearing on the radio and play them back whenever I wanted (imagine THAT!). That week, the iconic WABC was counting down its Top 77 of 1973 and I was in radio heaven. Even though some of it has been taped over, I still have parts of that countdown on that original tape, along with my musings about the tunes. I began making my first personal weekly chart a few days later and continued doing so for the next 25 years without ever missing a week (I still have them all, as well as a Whitburn-esque chronicle). I discovered Casey Kasem while on a summer vacation in 1975 when on the 4th of July weekend, I recall having correctly predicted that the Captain and Tennille would be on top of the world.
Flash forward 7 years and I'm spinning 45s on my college radio station - WLMU. Then, while working at my first professional radio station (WOKW - "OK-100" in Cortland/Ithaca, NY) I was presenting the station's own countdown - in a way I had become my idol, Casey Kasem. All through the '80s I made Top 40 and year-end Hot 100 tapes for friends, using my own "Turntable Magazine" charts (my silly take on Billboard) and still have many of them today.
I do remember catching a few mistakes on AT-40 broadcasts and screaming at the radio. In the 1978 year-end show, Casey plays the wrong Andy Gibb Song ("An Everlasting Love") and calls it "(Our Love) Don't Throw It All Away." Also, in early '77 and summer '78, I remember Casey stopping the countdown to announce that a few records were mis-ranked. Among them, "Sam" by Olivia Newton-John and "Think It Over" by Cheryl Ladd. Would love to know the inside story about those errors. Guess it was too much work to re-record in those days of linear editing.
And I remember a couple of odd countdown shows: one was called Out of Order, which played the songs in a mixed-bag way. Another was called "Wavebreaker" circa 1981 - a year or two before new wave, ahem, crested in popularity. It had the coolest opening music. Chris Granozio
6. One that immediately comes to mind...
Ingram plays People Got To be Free. (I was just starting to write them down) Had to be the week of 9/24. He talked over the intro, as usual, and said it was #4. Then, when it was over, he said it was #5. Now, he didn't say which one was right!! Had to wait until #4 was played to figure out it was #5.
Another--Ingram debuts Eric Carmen's Never Gonna Fall In Love Again--didn't say anything at the intro and joked around about something at the end. Result: no title, artist, or number given.
About 15 minutes later, comes on and says a rep from the record company called to complain. So, he gave the info!
How about walking home with my mom in a snowstorm on a Tuesday..get home a little past 3, survey day...and Harry Harrison is on giving the new survey! Seemed he got stuck in the AM, came in late and stayed as it snowed...Ingram was late, so Harry went on the air after Ron with the survey, I do recall Touch Me being top 5....Ingram went on the air at about 3:30. Tom Natoli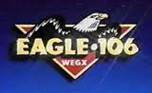 5. As Danny Bonaduce was starting his radio career
on Eagle 106 in Philadelphia, a nearby competing station was an affiliate for American Top 40. Casey Kasem did a 'Where Are They Now' segment on Bonaduce and followed it with an aircheck from Eagle 106, all of which aired on the competing station. Note to PDs: always preview your syndicated programs before they air. Scott Lowe
4. You know how the Drake format was so tight it squeaked?
My first Friday in afternoon drive at 68WRKO, it fell to me to do the weekly Now 30 countdown. My engineer was the late Chet Kelly, one of the finest of all time. He hit the ID/Bobby Mitchell intro, rammed the #30 hit (we NEVER called them records) which happened to have a long intro, I said my hiya, plugged the contest and the Now 30 Countdown, and hit the post right on. I killed the mike and hit the talkback to congratulate Chet on a kickass start to the Friday show, and... the record [remember 45s?] started to single-track. It took us a moment to realize it, because we had both turned the monitors down. When we heard the same line <click> over and over, Chet became a veritable bundle of activity, ripping the next song off the table and starting the backup copy of #30. It only took a couple of seconds, or was it years?
Mel Phillips, my PeeDee, came into the plush but not overly ostentatious studio just in time to see me destroy the offending disk. As I recall my line was, "Well, you won't hear THAT happen again...."
I MISS RADIO. Frank Kingston Smith
3. Here are some countdown oddities I remember.
1966. Dan Daniel counting down the Top 25 the way he did six days a week from 4-7 p.m. on WMCA. Wednesday was new survey day. It was six minutes before 7, two songs to go, and Dandy Dan played an extra. So at 6:57, he had three minutes to play the top two. I was wondering what was going on. Then Dandy Dan announced that Napoleon XIV was #1 but that the station was no longer playing it. So the show ended with #2 - "Hanky Panky."
In its early hip-hop days, WQHT did an all-time top 500 hip-hop countdown one weekend. They got all the way to #9. Then, the Sunday night Caribbean music show came on as scheduled. We never heard the top 8.
In its top 40 days, WWDJ was doing a top 500 countdown. As one shift ended, the next guy came on and started playing the regular format. About 15 minutes later, he played the last song from the previous show, then starting counting in reverse back toward 500. About a half hour later, he picked up where the countdown had left off and all was well after that.
And, here's the modern day countdown mishap. Syndicated countdowns. Most stations handle these great. But I've heard the same show two weeks in a row. I've heard shows featuring some segments from this week and some from last week. (Imagine hearing the same song at #13 and at #12.) And worst of all, segments are joined in progress when the internet stream doesn't rejoin the on-air show properly.
Thanks for sparking some memories. Joe Persek


2. Oh Yeah...the WTKU KOOL 98.3 "Most Requested
Good Time Oldies Countdown." South Jersey's Top 50 (sanitized and improved by the consultant, of course-"I know they ask for The Duprees, but Boyce & Hart tested higher in St. Louis") was to be hosted by me on NYE. I pre-recorded the 3 hours on reel-to-reel, labeling them Reel 1 7-8pm, Reel 2 8-9pm, Reel 3 9-10pm. The part-timer saw it was a countdown show, and threaded up the reels in 3-2-1 reverse order. I tuned in about 15 minutes into the 1st hour to check to see if all got off on the good foot...and was horrified. I called, and calmly told the young man to thread the proper # reel, and just pot it up when the current song was over. It sounded fine on air, and I'm sure not many caught it, and no spots were missed. BUT at 9pm, he started the reel again from the beginning, not where he left off, repeating the first 15 minutes or so.The tease for the years most requested record went out "comin up next"...but he dumped out because he ran up against the top of the hour and started regular programming. The countdown was out of order, songs were missed, and the #1 song never aired. BTW..."American Pie." Bill Cain
Of course, there is (like "The Howard Stern Countdown" on WNBC) no #1. Nobody's perfect. Although I try to be when doing the "top 9 at 9" Saturdays on my radio show. Granted, there's little drama when you're reviewing the top songs of x years ago this week (you can look 'em up) and there's only nine of 'em, but it's still fun, and, most important, listeners seem to enjoy it.
"When you play it...hmmmm..."
When my wife and I saw Bridesmaids, we spent most of the movie trying to figure out who played Annie's (Kristen Wiig) mom. It hit us like a hammer during the credits: it was the fairly-recently-departed Jill Clayburgh.
It would have been nice if I could have aimed my phone at Annie's mom during the movie and have an app tell me it was Clayburgh (and I imagine that's not too far away). And it's nice that when I hit the remote on any TV channel, I can find out what channel, show and episode it is.
Radio's a different situation with a different product, especially when live talent is involved. Pre-Internet and mobile, the only way to know what song was just played was if the DJ-on-duty told you. That's why the "when you play it...say it!" campaign was important during the late 1980s – so important, in fact, that the slogan was emblazoned across the top of Billboard's Hot 100 chart.
But even then, I didn't believe in "when you play it, say it." Not because most air talent ignored that command, and not because even then, a listener could find out the title and artist of any song if he or she just did some creative digging (or called the station).
No, the reason I didn't believe in it was because it compromises the creativity of the DJ. Play/say was fine in the pre-Drake era, when a DJ could talk between every song, but by the 1980s, most formats were in talk-every-other-song mode. Talking over both an outro and the next intro was already passe by then, so to use that short time to identify two songs is a bit of a stretch. At album- or classic rock, you could back-announce, but if I recall, even that wasn't happening so much by that time.
Before the 1980s, there were already radio shows the purpose of which was to educate the listener, and thereby identify every song by title and artist. Most college, niche rock, oldies and weekend/weekly specialty shows did this and still do, because the listener is listening for the music, not so much the personality.
So if we're limiting the discussion to stations playing contemporary music, we need to remember that contemporary stations have a contemporary audience. Most of that audience now either has or knows how to use song ID as a car feature or phone app, or knows how to look up any song online. It's not that hard to recall one lyric of a song and google it.
If the argument is, listeners are abandoning terrestrial for "other" because "other" identifies every song all the time, I'd like to see the research that says that. I don't buy it. I could see leaving because of "too much DJ talk": I've seen that research. And I could see it because "I can choose what music I want to hear." But I can't imagine anyone actually said "I got tired of not knowing what all these songs are because the DJ never told me." First you say DJs talk too much, then you say they don't ID songs. So may we infer that you don't want DJs to talk about anything else? If that were true, TM Stereo Rock would still be around and be the #1 station in every market!
Look, there were times when I, like anyone, would have appreciated a live read of a new song's title and artist. I couldn't have seen 14-year-old me calling WMEX asking "What's the song that goes 'I! am the magnificent! Uh! Uh! Uh! Uh!'?" But at the same time, I cared enough to want to know, which made me keep listening. Most listeners could go their whole lives not knowing or caring. A man called my show last Saturday asking who was singing "Young Girl" ("was that Johnny Mathis?"). I highly doubt it was the first time he'd heard that song, especially since it plays regularly on WRNJ. Could it be that whatever I was saying or doing on the air made him want to call, and therefore, my not identifying the song by either title or artist was a good thing? (Discuss.)
While I'm not suggesting the credo should be "When you play it...say nothing" but rather something like "When you play it...don't go out of your way to say it if it makes you sound like you're breaking format or stopping a speeding train."
Try printing that atop the Hot 100.
Now, as promised, it's
THE REST OF...THE I.r.s. (part 2)
201. UNDER MY THUMB / THE ROLLING STONES (1966)
202. ASK THE LONELY / THE FOUR TOPS (1965)
203. ROLLIN' WITH THE FLOW / CHARLIE RICH (1977)
204. MOONDANCE / VAN MORRISON (1970)
205. STARRY EYES / THE RECORDS (1979)
206. LET ME / PAUL REVERE & THE RAIDERS (1969)
207. MAMMY BLUE / LOS POP TOPS (1971)
208. BIRDS OF A FEATHER / JOE SOUTH (1969)
209. TALKIN' BASEBALL (WILLIE, MICKEY AND THE DUKE) / TERRY CASHMAN (1981)
210. SKY PILOT / ERIC BURDON AND THE ANIMALS (1968)
211. DOUBLE BARREL / DAVE AND ANSIL COLLINS (1971)
212. OH NO NOT MY BABY / MAXINE BROWN (1964)
213. CAROLINA IN MY MIND / JAMES TAYLOR (1969)
214. MORE THAN THIS / ROXY MUSIC (1982)
215. ROLL OVER BEETHOVEN / THE BEATLES (1964)
216. ECHO PARK / KEITH BARBOUR (1969)
217. WIGGLE WOBBLE / LES COOPER AND THE SOUL ROCKERS (1962)
218. LITTLE TOWN FLIRT / DEL SHANNON (1963)
219. WHAT'S SO FUNNY ABOUT PEACE, LOVE AND UNDERSTANDING? / ELVIS COSTELLO (1979)
220. THE LOOK OF LOVE / DUSTY SPRINGFIELD (1967)
221. STAR BABY / THE GUESS WHO (1974)
222. MAY I / BILL DEAL AND THE RHONDELS (1969)
223. ISN'T IT TIME / THE BABYS (1977)
224. BIG TOWN BOY / SHIRLEY MATTHEWS (1964)
225. THERE BUT FOR THE GRACE OF GOD GO I / MACHINE (1979)
226. TAR AND CEMENT / VERDELLE SMITH (1966)
227. WEREWOLVES OF LONDON / WARREN ZEVON (1978)
228. DANCING IN THE MOONLIGHT / KING HARVEST (1973)
229. BUDDY HOLLY / WEEZER (1994)
230. SHAKE SOME ACTION / THE FLAMIN' GROOVIES (1976)
231. BELLA LINDA / THE GRASS ROOTS (1968)
232. SHE'S A RAINBOW / THE ROLLING STONES (1967)
233. BLUEBIRD / BUFFALO SPRINGFIELD (1967)
234. DO YA / THE MOVE (1972)
235. YOUR MOVE aka I'VE SEEN ALL GOOD PEOPLE / YES (1971)
236. THE WEDDING SONG (THERE IS LOVE) / PAUL STOOKEY (1971)
237. NEVER LET HER SLIP AWAY / ANDREW GOLD (1978)
238. FROM ME TO YOU / THE BEATLES (1964)
239. BIRTHDAY / THE BEATLES (1968)
240. DON'T LET GO / ROY HAMILTON (1958)
241. B-A-B-Y / CARLA THOMAS (1966)
242. ELOISE / BARRY RYAN (1968)
243. (TODAY I MET) THE BOY I'M GONNA MARRY / DARLENE LOVE (1963)
244. I'M DOIN' FINE NOW / NEW YORK CITY (1973)
245. WHILE YOU'RE OUT LOOKING FOR SUGAR / THE HONEY CONE (1969)
246. NO GOOD TO CRY / THE WILDWEEDS (1967)
247. SO GOOD TOGETHER / ANDY KIM (1969)
248. THE WEIGHT / THE BAND (1968)
249. HEAVEN MUST HAVE SENT YOU / THE ELGINS (1966)
250. THAT'S THE WAY OF THE WORLD / EARTH, WIND AND FIRE (1975)
251. GROOVY SITUATION / GENE CHANDLER (1970)
252. CONCRETE AND CLAY / UNIT 4 PLUS 2 (1965)
253. AIN'T NO STOPPIN' US NOW / MCFADDEN AND WHITEHEAD (1979)
254. WE CAN FLY / THE COWSILLS (1968)
255. WALKING IN THE RAIN / THE RONETTES (1964)
256. HOLIDAY / THE BEE GEES (1967)
257. ANNA / ARTHUR ALEXANDER (1962)
258. BABY, NOW THAT I'VE FOUND YOU / THE FOUNDATIONS (1967)
259. ELECTRIC BOOGIE / MARCIA GRIFFITHS (1990)
260. A CHANGE IS GONNA COME / SAM COOKE (1965)
261. SILVER THREADS AND GOLDEN NEEDLES / THE SPRINGFIELDS (1962)
262. I'LL COME RUNNING / LULU (1965)
263. SHA LA LA / MANFRED MANN (1964)
264. A THOUSAND MILES AWAY / THE HEARTBEATS (1957)
265. HERE COMES MY BABY / THE TREMELOES (1967)
266. THE DANGLING CONVERSATION / SIMON AND GARFUNKEL (1966)
267. YOU CAN CALL ME AL / PAUL SIMON (1986)
268. TIN SOLDIER / THE SMALL FACES (1968)
269. YOU KEEP TIGHTENING UP ON ME / THE BOX TOPS (1970)
270. THE LAND OF MILK AND HONEY / THE VOGUES (1966)
271. THE JOKER WENT WILD / BRIAN HYLAND (1966)
272. I'M ALIVE / THE HOLLIES (1965)
273. CALL OUT MY NAME / ZWOL (1979)
274. LODI / CREEDENCE CLEARWATER REVIVAL (1969)
275. SHAKIN' ALL OVER / THE GUESS WHO'S (1965)
276. CHANGES / DAVID BOWIE (1972)
277. AIN'T TOO PROUD TO BEG / THE TEMPTATIONS (1966)
278. GIVE A DAMN / SPANKY AND OUR GANG (1968)
279. I DON'T WANT TO CRY / CHUCK JACKSON (1961)
280. WON'T FIND BETTER (THAN ME) / THE NEW HOPE (1970)
281. SUSPICIONS / THE SIDEKICKS (1966)
282. YOU'RE THE REASON WHY / THE EBONYS (1971)
283. THAT SAME OLD FEELING / THE FORTUNES (1970)
284. SANDY / RONNY AND THE DAYTONAS (1965)
285. DEDICATED FOLLOWER OF FASHION / THE KINKS (1966)
286. SOLID / ASHFORD & SIMPSON (1984)
287. GOODY GOODY / FRANKIE LYMON AND THE TEENAGERS (1957)
288. THAT'S HOW HEARTACHES ARE MADE / BABY WASHINGTON (1963)
289. WITH THIS RING / THE PLATTERS (1967)
290. DIRTY WATER / THE STANDELLS (1966)
291. CA PLANE POUR MOI / PLASTIC BERTRAND (1978)
292. RUN RUNAWAY / SLADE (1984)
293. I HAD TOO MUCH TO DREAM (LAST NIGHT) / THE ELECTRIC PRUNES (1967)
294. LOVE MAKES THE WORLD GO ROUND / DEON JACKSON (1966)
295. GOING UP THE COUNTRY / CANNED HEAT (1968)
296. CHAPEL OF DREAMS / THE DUBS (1959)
297. PURPLE HAZE / JIMI HENDRIX EXPERIENCE (1967)
298. PUSHIN' TOO HARD / THE SEEDS (1967)
299. LOVE'S MADE A FOOL OF YOU / BOBBY FULLER FOUR (1966)
300. YOU GOT TO ME / NEIL DIAMOND (1967)
And yes, there is a Part 3.
By the way, if you missed top 104 in any shape or form, it's all here: HZ SO GOOD
The HzLine
Let me take a moment to thank Radio-Info.com's Dana Hall, LARadio.com's Don

Barrett and Daily Breeze's Richard Wagoner for running, or referencing...
Would the world miss DJs?
Rich, you wrote that "every generation influences the one before." I assume you meant the one AFTER. Your comment reminded me of the cover of an old Archie comic that depicted Archie and Jughead watching girls walk by, and Archie observing that "Every girl that passes is prettier than the next one." In other words, each one is successively uglier---not what the artist meant to say.
Steve in Boss Angeles
Actually, Steve, if 'the one before' is the older generation, (as in, my Dad came before me), then, that is what I meant - parents learn about technological advances from their kids. Influence in tech, and music, goes from younger up vs. older down. My Dad was an electrical engineer and one-time TV repairman, and spent his entire life fascinated by all electrical devices. Unlike other Dads out there, he missed the Internet by thismuch.
Still more I.R.S.
I'll go along with Mel Phillips and say that [WRKO] did play "Can't Find The Time" by Orpheus because I really seem to remember us doing so. It, of course, was during the (alleged) "Boston Sound" which was big at WMEX with Dick Summer. Dick did a great job exposing those groups, who also included Beacon St. Union, Ultimate Spinach and Fabulous Farquar (and several others).
Even though we were under the "Drake" umbrella, we had our own "leverage" to play local stuff (as did others like CKLW, who played lots of Detroit soul that others didn't, and WHBQ with southern rock). We just didn't get too involved with the "Boston Sound" because a lot of those records were (at best) mid-charters as 45's, and we weren't an album station. As I recall, we may have only played the Orpheus song as an
unlisted "extra," and when it didn't show too heavily in sales, probably kept it there (I can "visualize" the 45 on the yellow and black MGM label, DJ copy). Despite the
fact that it was a mid-charter in Billboard, it sounded good on the air and didn't hurt us.
I'm also wondering if we played "My Island" by the Fabulous Farqhuar on Verve/Forecast, because I remember being at a function and being introduced to Doug of the group and recall him saying thanks for the support. Great long-ago memories!
Another prime example of our "individuality" that comes to mind is when we programmed "No Good To Cry" by the Wildweeds because it sounded right (I'm sure Hartford probably beat us to it, though), and that record made it to #1, while never charting nationally anywhere near the top 40. I'm sure there were a number of others as well.
Another record I'd like to comment on is "Everybody Loves Matilda" by Duke Baxter (which was mentioned) and, as I recall, there was some kind of tie between that record and RKO's national md, Betty Breneman. Irregardless, I recently listened to it and it really was a good, fun sound that I'm sure never sold much, but it was a nice sound for the station and it didn't hurt us to play it.
To this day, though, there are some that I regret not programming (for whatever reasons), including "Hot Smoke And Sassafras" by Bubble Puppy and "Cinnamon" by Derek (Johnny Cymbal) who actually came to the old station in Kenmore Sq. to "hype" us on it. Another later one was the "Candy Man" by Sammy Davis Jr., which got a record company friend of mine in a lot of trouble for not getting it on, but there had been a change in pd's and by that time my eyes were on the door, and I chose to leave for the record biz a short time later.
Paul Power
RKO did indeed play "My Island," Paul, which is why I bought that 45 (even if it took me years to find it!). It got a lot of play the weekend after Bobby Kennedy was assassinated and RKO pulled the harder tunes as America mourned.
Re "Candy Man," I recall not being surprised that Scotty Brink wouldn't play it in, given he'd moved the station to that more album-focused contemporary format, and had ignored hits in spring by Donny Osmond and Michael Jackson. I also recall being ambivalent about that format in general: I liked that RKO was playing some pop/rock records that normally wouldn't have had a shot (John Stewart's "Arkansas Breakout," Fabulous Rhinestones' "What a Wonderful Thing We Have") and went really early on those that did eventually hit nationally (Argent's "Hold Your Head Up," Mouth & MacNeal's "How Do You Do"), but not that it was trying to mix the hits with album tracks without real commercial viability (Allman Brothers' "One Way Out," Jackson Browne's "Rock Me on the Water") or that it basically decided to no longer be the 'home of all the hits.'
And the countdowns just keep on comin'
DON WE NOW OUR "GOLD" APPAREL He may not handle records much anymore, but NJ DJ Don Tandler is certainly in touch with his digital side. Don's Pop Gold Radio (popgoldradio.com) starts with a bang, literally, over 4th of July weekend with, get this,
the first-time-ever-done "WABC Top 1000 Hits Of The 60s." It begins 10am ET July 1 with #s 1000-751, continuing with 250 songs each day through the 4th.
Note from Don: "There will be a listen live link for all music players at the website. For now, we're in preview mode: go to shoutcast.com or tunein.com and search for "oldies 103". This changes sometime between now & July 1. We have a Facebook page; please join us there & click "like." Besides the special, my "Time Machine' returns weekly beginning Saturday, July 9 (WABC survey, July 9, 1970, with the private sales list numbers) live at 9am ET on Pop Gold Radio."
Note back to Don: "Mazeltov, my friend, and heaven help you if Louis Armstrong's 'Hello, Dolly!' is WABC's #1 of the '60s as well as of just '64. If Scott Muni's ghost gets wind of that, he might just turn Pop Gold Radio into 'All Yoko All The Time'."
LOOK OUT FOR #2 Also July 4th weekend – or at least on the 2nd of July - The Rest of the Week with Rich Appel, Saturdays 6am-1pm ET at http://wrnjradio.com/, celebrates its 2nd anniversary, with the songs that placed 2nd. The Top 72 (7/2, get it?) #2 songs, that is. So you know Satchmo (or Yoko) can't top that one. But it does beg the question, does it make more sense if this countdown ends with #2?
May not work for either of the above, but I thought I'd go with a 'photo finish' this time...
----
Click Also, the 2012 edition of the I.R.S. (It Really Shoulda been a Top 10 hit) appears in April-May 2012 edition of Hz So Good.
Click