I.R.S. #5 FILING DEADLINES
APRIL 1st!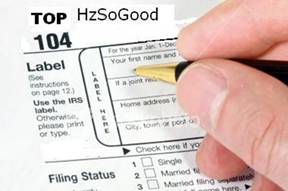 Just a few more weeks left to file the only I.R.S. form that matters!
Since 2008, 'round these parts,"I.R.S." has meant "It Really Shoulda" been a Top 10 hit. For the 5th tax season, we're compiling the "I.R.S. Top 104" songs that really shoulda been Top 10, based on your suggestions.
Filing with this I.R.S. is EZ-er than with those other guys, mainly because there's no form. Here's all you do:
· Send a list of songs that make you say "THAT really shoulda been a top 10 hit!" to IRS104@verizon.net.
· Any song that didn't reach the Top 10 in the U.S. is fair game, whether or not it was ever on any chart, whether or not it was ever released as a single.
· It doesn't matter if you don't know (or care) whether songs were Top 10 or not. We'll take care of all corrections. 


· Send as few songs as you'd like, or as many, up to 100. We know some of you can come up with more, but please limit your list to 100 songs.
· Unless you specify otherwise, lists are assumed to be in rank order, with your favorite listed first.
· Make sure to list title AND artist for every song.
· Since this is a ranking of songs, do not list two sides of a single as one entry.
· Likewise, do not list two or more versions of the same song as one entry.
· The absolute deadline for all "I.R.S. forms" is 11:59:59pm Eastern time, April 1st – April Fool's Day - 2012.
Random I.R.S. filers will receive "refunds" in the form of either merchandise from RadioLogoLand or 4-disc sets of the I.R.S. Top 104!
The countdown of the 5th annual I.R.S. Top 104 kicks off April 13th on Bob Radil's Friday night show on http://www.RewoundRadio.com, and plays back in full on the Saturday and Sunday editions of "The Rest Of The Week With Rich Appel" on WRNJ. We'll draw winners on all three shows.
So, get your I.R.S. form to IRS104@verizon.net by April 1st and join the fun. Our preparers are standing by.

H&Z ROCK
a division of you-know-who

PRE-I.R.S. MADNESS: THE SWEET 16

HzS

G


d
"Fighting to stay free" #162...March 2012
And now, ladies and gentlemen…
...submitted for your approval, 16 songs that WERE top ten hits, which no one at radio seems to pay much attention to anymore (read, not in the airplay top 1000 of any commercial format)... but which could be terrific 'secret weapons' for anyone who spins them. All are from classic hits' "sweet spot" of 1969-1987, and they appear here in chronological order.
Be advised that I'm not privy to printouts: for all I know, a few of the songs in this "Sweet 16" might be research nightmares. But I'm betting most have just been forgotten about, that programmers aren't turning to the second page for each year in the Whitburn book.
I was surprised by which songs made this list. I really thought most of these still had a radio presence, given how big they were. I've been playing these on my Saturday show thinking terrestrial listeners could still find them elsewhere. But I guess forty years is a long time. For this issue of Hz, maybe I.R.S. should stand for, It Really Should get played on the radio.
So... here we go, baby!
1. CAN I CHANGE MY MIND - TYRONE DAVIS (1969) http://youtu.be/vp2Ja6b0N5U
Except for a handful of spins on Classic Hits and Urban AC, pretty much MIA in the top 200 markets. Tyrone's other top ten, 1970's "Turn Back the Hands of Time," has a significantly larger footprint, though.
2. UP THE LADDER TO THE ROOF - THE SUPREMES (1970) http://youtu.be/9v1S-ypz5a4
Had we gone a little further back, I'd have also picked the before-its-time "Love Is Like an Itching in My Heart." As it is, the first post-Diana Ross Supremes record was arguably better (and bigger) than many of them with Diana since the 1967 name change to "Diana Ross and the Supremes."
3. THE NIGHT THEY DROVE OLD DIXIE DOWN - JOAN BAEZ (1971) http://youtu.be/C2W0QZFguDE
No, The Band's version doesn't show up either. And it's interesting how it was regarded as a "sell out" for Joan in its day, whereas now it's probably called a "folk song." A few ACs play it, but none did this past week. I don't see why it couldn't be effective middays, or during store and office hours.
4. IF YOU'RE READY (COME GO WITH ME) - THE STAPLE SINGERS (1973) http://youtu.be/T33cS1yT-vc
Even then I was surprised this wasn't half the hit that "I'll Take You There" was, given it was more of a pop record. Yet now, only a few Urban ACs play it every week. I still say it's a better and catchier (read, not as heavy on the gospel) song than ITYT.
5. WATERLOO - ABBA (1974) http://youtu.be/Sj_9CiNkkn4
You'd be right to say that "Dancing Queen" is the only ABBA standing. But their first U.S. hit was so un-ABBA you'd think it'd resurface. I imagine most programmers throw this in the same category as most of the pre-teen-targeting tunes of that era. Maybe I'm dreaming, but with fans to this day and a Broadway pedigree, ABBA - especially a more rock-ified ABBA - should elicit some positive reaction.
6. BAD TIME - GRAND FUNK (1975) http://youtu.be/lsDMxWgPQcg
Really? Minimal oldies play, a pair of smaller-market ACs last week, and that's it? The Funksters had four top ten hits, and this is the only of the four without any significant classic hits/oldies or classic rock play so far in 2012. Someone ought to tell 'em this is one of the best little pop gems ever.
7. GOLD - JOHN STEWART (1979) http://youtu.be/GPjhHcLpfr4
One of the few songs top 40 shared with album rock that year, but very tough to catch this year. It's on a couple of ACs, though, neither of which are in a California town (New York and Tennessee).
8. TIRED OF TOEIN' THE LINE - ROCKY BURNETTE (1980) http://youtu.be/bYZjIZxcB18
I played this on last Sunday's "1 Hit Wonders at 1" thinking to myself, well, here's one you'll still hear all the time. Wrong.
9. TROUBLE - LINDSEY BUCKINGHAM (1981) http://youtu.be/RbpuflLgmgM
To quote WFAN's Mike Francesa, this makes no sense. The biggest hit by the pop pilot of Fleetwood Mac during the band's peak years, and one of its few spins last week was on, get this, Wilmington DE's top 40 WSTW. How is this not a great fit with classic hits or rock?
10. BETTER BE GOOD TO ME - TINA TURNER (1984) http://youtu.be/qyU7BbQSm98
Tina's solo career spanned ten years, yet only one song, "What's Love Got to Do With It," still plays on radio with any regularity. The follow-up, a great rocker, deserves better.
11. I'M GOIN' DOWN - BRUCE SPRINGSTEEN (1984) http://youtu.be/ZarmRLa2p9Q
You're thinking, with so many Bruce songs, something had to take the fall. Not exactly: radio plays just eight Boss hits in healthy rotation. This, the 6th of the 7 singles on Born in the U.S.A., was heard last week on one AC and one Hot AC.
12. WHEN THE GOING GETS TOUGH, THE TOUGH GET GOING - BILLY OCEAN (1986) http://youtu.be/MENAC_qNd4Q
Maybe not "Caribbean Queen" or "Get Outta My Dreams" but a pop/R&B tour-de-force nonetheless, the hook for which still holds up.
13. VALERIE (REMIX) - STEVE WINWOOD (1987) http://youtu.be/cbKNICg-REA
Stevie's already got plenty of rock 'n roll radio real estate, with five of his own songs and one big one with Spencer Davis Group, but this top ten hit really oughta be in that gang as well.
14. I COULD NEVER TAKE THE PLACE OF YOUR MAN - PRINCE (1987) http://www.totallyfuzzy.net/ourtube/prince/i-could-never-take-the-place-of-your-man-live-video_211ef31b6.html
Prince has a different problem: while he's got a dozen songs you can catch regularly, few of those work for the older classic hits audience. Most haven't aged well. This one was a great pop song then and still is now. It was a secret weapon of mine a few Saturdays ago on RNJ, when it made the phones ring.
15. DON'T SHED A TEAR - PAUL CARRACK (1987) http://youtu.be/LJ4wa-432xQ
The voice of Ace's "How Long" and Mike + the Mechanics' "The Living Years" scored one strong solo hit which does show up on a few ACs, a couple of Hot ACs, and I have to think on a Classic Rocker or two. These days it's like its taken, to quote its singer, a cab fare to nowhere.
16. SAY YOU WILL - FOREIGNER (1987) http://youtu.be/pX2UIC5nM2I
Last, but not least. As in, it was the band's last really big hit, and it'd probably be as much a favorite as their big ballads or "Cold as Ice" if radio would play it a bit more.
You probably have ideas of your own when it comes to top ten hits that have gotten short shrift at radio. The lines are open, baby!
Much more music
I'm sorry I didn't get to run this earlier, but it does fit nicely with the above. Thanks, Gary. Right on the mark.
A tip of the choirboy's hat on your "Reality Bites" comments. The more I see the more of our own tribal offspring chasing the next radio'ish fad (i.e., Pandora), the more I just want to cry.
It's the same me-too'ing that followed me everywhere I put on a Classic Hits/Rock station. All those incredible AORs like KQRS and WBCN leaving their well-jeweled, broad-demo'ed, musically-conscious thrones to cave in on a ne'er-do-well station that just wanted to eek out a slice of the pie for themselves.
Keep swinging that bat. Let's hope someone, somewhere, gets the idea.
Gary Guthrie
I've been thinking about this, and I think I know what it is. Radio is one of the few businesses - maybe the only business - built with emotion. That makes it very difficult to use the phrase "business is business" when talking about radio. You don't love a razor or toothpaste or a bag of Frito's the way you can a station. The people in the box are friends, they're talking to you every day.
That makes it tough to rip apart a radio station the way one would another company. Yes, listeners get older and "age out," and yes, music and culture change. But a great radio station should be able to slightly re-position and weather these storms as opposed to tear down and build something new.
In the past year, a lot of people have woken to find a favorite FM station replaced by an AM news or sports station simulcast. I understand why, I'm sure most of you do too. But could it have been prevented by compromise? Could elements of the AM have been added to the (or an) existing FM? Or is that thinking 'outside the wallet'?
I understand Gary's frustration, at least as much as I'm able to understand it as a listener and local radio host. Making good radio might not the priority it once was because everyone's hands are tied. That's ironic, because making good radio just might be the solution to most of radio's problems right now.
Hz-atorial:
I would not want to live next door to these guys
Were it possible, I bet a lot of us would like to live in Mayberry, or Mayfield, or down the street from either the Cunninghams or the Formans in Wisconsin. I'd have even enjoyed living near the Bunkers.
You could probably go on all day naming TV shows that depicted a world where everyone was friendly and nothing that bad ever happened. Was there ever a murder in Mayberry? I doubt it, not while Andy was Sheriff.
I don't watch a lot of TV now, but whenever I do, I come away thinking, I would not want to live next door to these guys. If I lived near Kenny Powers on Eastbound and Down, I'd stay in the house. Wisteria Lane, where the Desperate Housewives live? Forget about it. Not even the modern families on Modern Family. Too many issues.

The Powers that be…a total @$$#0!&
In fact, I can't name you one TV show setting where I'd want to live. Ok, there is one. I'd like to be wherever Larry David is in Curb Your Enthusiasm, but in many ways that's a throwback sitcom, which is why.
The problem, or deterrent, is fairly obvious: TV today is too real, and I'm not referring to reality TV. Actually, maybe I am, since that genre has clearly influenced scripted shows. If the ratings and research show that viewers get more satisfaction from watching a world where people make the same tough decisions they do every day, then that's what gets produced. Me, I still watch to escape. And to wish I were living in that world, where horses not only talk but what they say makes them smarter than their owners.
I know television is supposed to reflect society, and that is why the most popular shows show our changing and increasingly more complex world. But does that necessarily make it escapist fare? I guess most viewers just shrug and say, well, at least that's not my life.
As for me, I guess you could say I'd rather be on an island with seven stranded castaways, than be voted off of one.
And the hits...
MEZZA-MEZZA! Little Caesar's is back on TV, but the fun of their earlier advertising sure isn't. I remember attending an Advertising Research Foundation convention in the late 90s that featured a half hour of LC's best spots. A few are below.
http://www.youtube.com/watch?v=yYE-_asc_o0&feature=related
http://www.youtube.com/watch?v=YUEl8YwWm2U&feature=related
http://www.youtube.com/watch?v=ArZU9dDJRRY&feature=related
http://www.youtube.com/watch?v=H4gQGGsCe_U&feature=related

Et tu?
MY WEEKLY WRITER Also known as "The CHRonicler," in Thursday's Billboard Top 40 Update (subscribe free at http://www.billboard.biz/newsletters). Long as I'm plugging, I do this little radio show Saturdays and Sundays called "The Rest Of The Week With Rich Appel" on http://wrnjradio.com/streaming/. If you're a little leery of commitment, you can sample the show - at least Saturday's edition - at http://wrnjradio.com/2012/03/watch-rich-appels-video-aircheck-video/. If you miss either show, you can follow what went on at http://twitter.com/#!/@Restoftheweek or at
http://www.facebook.com/richappel7).
So, whattaya gonna do? Of course!
Click.
Click